Common App craze
2021-2022 college application cycle saw unexpectedly competitive trends
With seniors wrapping up their year and preparing to head off to college in the next few months, many are reluctant to reflect on the often-painstaking process that led them there. The 2021-2022 college application cycle marked one of the most cutthroat admissions years to date.
Hope Stimac, college counselor and advisor, weighed in on the competitive nature of Jones students and the pressure that comes with applying to college.
"Some students, at a high-achieving and high-pressure school like Jones, feel pressured towards name recognition. Sometimes I think that comes from students themselves. Sometimes I think that comes from parents and guardians. Sometimes I think that just comes from society as a whole," said Stimac. "Yes, selectivity is important, but what are the other pieces that go into your application? Or what are the other pieces that you're looking for in a college where you will probably be for four years? I definitely think that's a piece of it."
Elizabeth Abrams '22 applied to a variety of colleges this year, experiencing the full weight of this year's process.
"It was at first pretty stressful; the essays were pretty daunting, I got a college essay tutor and all she did was validate that they were fine – just needed a few edits," said Abrams. "Otherwise, it actually went pretty smoothly. I applied to a bunch of schools that ended up not being the right fit for me and, actually, the school that I'm going to, Muhlenberg College, was my safety."
During her application process, Abrams planned ahead accordingly based on this year's competitiveness.
"I applied to 12 colleges because I knew that it would be a strange year. I knew it would be difficult to get into places where ordinarily I would get in, no problem. What was initially my number-one school waitlisted me and I really thought that they were a given, that it would just be a matter of the money to see where I went," said Abrams. "I think it was definitely more competitive – a lot of people were getting rejected from schools they thought they would get into and getting into schools they didn't think they would. It's a whole new game."
Charles Cammack, Associate Director of Undergraduate Admission at the University of Miami, reflected on the university's huge influx in applications this admissions cycle. 
"We've seen our applications increase from 43,000 last year to just under 50,000 this year, so naturally our admit rate will decrease," said Cammack. "The University of Miami has been test-optional for the past two cycles and we will be for next year as well, which we believe opens up the opportunity for many more students to consider us as a viable option."
With more and more schools going test-optional in the 
wake of COVID-19 and related complications, many think this policy could be here to stay.
"I think that we are living in a unique time in the college admission process, primarily because so many institutions have moved to being test optional or in some cases test-free," said Cammack. "This has eased a significant burden from the college admission process both mentally and financially."
Cammack offered advice for incoming freshmen and high school seniors applying to colleges in the fall.
"[They should] start the process early. We are doing sessions for sophomores and juniors right now, so you can have the information to begin putting together your college lists and application plans," said Cammack. "Also, [they should] be open to a variety of different schools. You never know what could be the best fit."
Leave a Comment
About the Writers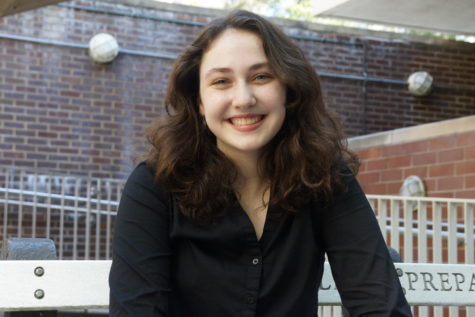 Fiona Kogan '22, Co-Editor in Chief
Fiona is a senior at Jones and this year's co-Editor-in-Chief of the Blueprint. Additionally, Fiona is involved with NHS, NEHS, Girl Up, and Young Democrats...