Final shots fired
Valorant run ends with 2nd place finish
The Jones Varsity "Valorant" team ended their season with a 2-1 (6-13, 13-6, 2-13) match loss to Barrington High School in the playoff finals on April 16.
The team managed a successful playoff outing with good wins against their first two playoff opponents before facing Barrington, last year's champions. 
"We convincingly beat our quarter final and semi finals opponents," said Jake Weinstein '23. "Obviously we wish we could have won the final, but Barrington is a good team who have been playing together for almost two years."
Mackinnley Kuberski '22 stated his pride in the team for making it as far as they did.
"Second place is nothing to be disappointed about," said Kuberski. "Nevertheless, we all felt like we had it in us to win, it's just yesterday Barrington had our number."
Taehawk Oliver Oh '25 felt good about the season and performance overall.
"I feel that we performed very well," said Oh. "I heard that Jones was not even on the board for varsity Valorant the previous year, and I am content with the improvement from that to second place."
Weinstein felt confident on performance as well, saying it will carry on to next year.
"We were overall very dominant throughout the season, and were substantially better than every team except Barrington," said Weinstein. "Even then, if we played them again, there might be a different outcome. It was a great season and a lot of fun. We'll win next year."
Kuberski talked of his contentment with the bond the team shared throughout the season.
"It was awesome playing with the guys. I'm glad that none of the underclassmen felt intimidated playing and being friends with older players," said Kuberski. "I think that not only did we become great teammates, but friends as well."
The Valorant JV A team finished second in state, and the JV B team finished fourth, including talents Kuberski highlighted along with happiness with the season.
"I'm very happy with the season. We were undefeated until finals, and only dropped one map before then," said Kuberski. "Very excited to see how JCP performs next year with the talent we've seen from JV and the underclassmen from Varsity."
Oh highlighted two star JV players that played for varsity a few games.
"We had subbed in two of our JV players at times for varsity games, Cooper [Choyna '24] and Ryan [Yang '22]," said Oh. "Both performed excellent and had good synergy with the team."
Weinstein seconded the non-varsity talent on the rise, mentioning Cooper as well.
"Our JV talent is excellent and some of the players will definitely move up next year. Notably Cooper, who subbed for us 3 times during the regular season, has been showing excellent improvement," said Weinstein. "Big shoutout to Cooper for helping us get where we did this season. We also have several other high caliber players that might make the move up next year."
In terms of improving on the season, Kuberski continued to highlight the hard work the team put into the season.
"In terms of internal team stuff, I think we realistically did the best that a team of teenagers could do," said Kuberski. "We aren't professionals, and we all have seven classes to worry about plus homework every day. We practiced as often as we could and took each other seriously."
Weinstein expressed his gratitude for playing on an amazing team.
"This team has been a great experience to play on. No one is accusatory or blames people for making mistakes," said Weinstein. "Everyone worked together all season and played together well. So really a shoutout to everybody for making this team so fun and doing so well."
Kuberski continued the whole team's praise as well as giving a shout out to Nolan Danby '22 and Riley Stunnard '24.
"The entire team played incredibly. Going 10-1 including playoffs is an incredible feat. But I want to highlight Nolan and Riley specifically because they kept the energy up the entire tournament," said Kuberski. "Nolan is a great in-game leader and helped me keep the team's mental game strong. Riley stepped up during the playoffs and made some incredible calls, along with being an absolute beast on the leaderboard."
Oh praised the awesome mindset of the team for sticking it through the end.
"We played our best and managed to maintain an amazing mentality, even when it was dire for us in the finals," said Oh. "It was a pleasure to play with everyone on the Jones varsity Valorant team."
Leave a Comment
About the Writer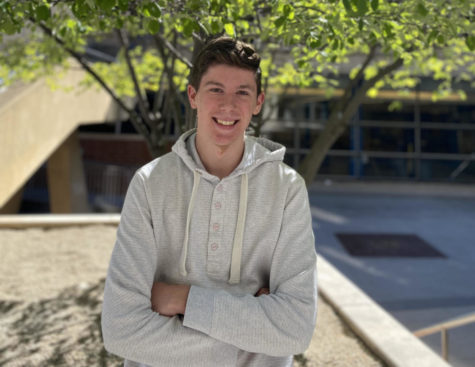 Noah Barbas '24, Online Editor
Noah is a junior and is the online editor for the Blueprint website. A second year journalism student, he enjoys making sure things look good. He plays...