Face Off
Jones Hockey Players are key in city championships
The Chicago South Meteors, a high school hockey team composed of Jones, De La Salle, and Wolcott Prep student athletes, won the Illinois Hayes Suburban League Championship on Sunday, March 13. 
After a 6 month long season, the Meteors defeated the Homewood-Flossmoor Vikings to win the cup.
"It feels really good. It was a long season. We had some mix ups with refs and timing. So we ended up having some of our games canceled. But it feels good to end up on top of the division," said Dario Nardini '23
The Meteors' path to victory was not easy. In the best of three championship series, the Meteors quickly found themselves in a hole, losing the first game 4-2. 
"After that first loss, we knew we had to win the next two games," said Nardini.  "So we just hunkered down and fixed our mistakes from the first game and made sure we came out on top."
The offense exploded in game two, scoring five goals. Tyler Golod '23, who led the entire league in goals, had three to complete a rare hat trick. Brendan Bush '22 and Asher Berman '24 also scored. Berman attributes a strong mindset to the change.
"We stayed pretty positive. We weren't getting down ourselves," said Berman. "We were ready to go. It wasn't thinking about the first one: It was more 'how can we win two in a row' instead of 'how can we come back?'" said Berman.
The Meteors' defense also showed up big in games two and three. Thanks to defensemen like Max Aleman '22 and Zach Ziegler '23, the Meteors limited the Vikings to one goal a game. Strong teamwork and comradery helped the defense stay tough.
"I think all the defenders came to play, and had a lot of energy and really wanted to win. There was a lot of communication," said Nardini.
Nardini applauds goalie Jason Bernstein '23 for his effort on the season. Bernstein was the only goalie for the Meteors and played every minute of every game.
"I think that [Bernstein] came out really strong in all three games and really helped out the defense. So I think it was a big team effort," said Nardini.
The seniors were the backbone of the Meteors. Alexander Xie '22, Thomas Serges '22, Brenden Bush '22, and Aleman have worked hard in pursuit of a championship for the past 4 years.A nd in game 3 of the championship series Bush and Xie each scored a goal to help secure the trophy. Serges loves the feeling of being a champion.
"It feels amazing. Since freshman year we haven't really won any major championships. This is our first one. It feels great to win a championship by the time I graduate," said Serges.
The underclassmen will miss their captains.  On and off the ice, the three players exhibited great teamwork which helped bring the team to the championship.
"Serges, Bush, and Xie were big components of the team with height and skill," Nardini said. "They all knew each other, so there was a lot of chemistry between all of them. I think we are going to miss them a lot," said Nardini
As the seniors leave the team, the rising seniors and juniors will be stepping up as the main playmakers. Serges expects the players to adapt quickly to their new roles,
"They know our playing style and they picked up on it greatly. So if they keep running the system, and keep doing what they've been taught, the team will be successful."
The team is celebrating right now, but they have to plan for next season. Even without three key players, Berman believes there is a strong chance that the Meteors can run it back.
"I think we can. We're gonna have another tough year. But I think we will have a strong core and a lot of our high production lines are gonna stay intact for next year and I'm excited to see that," said Berman.
View Comments (3)
About the Contributor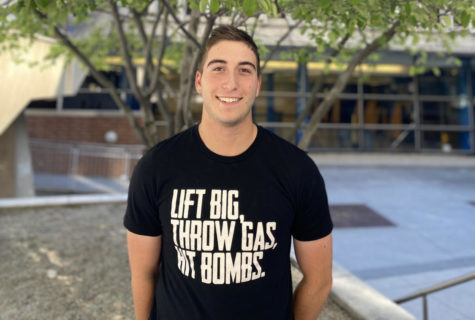 Dean Goldman '23, Lead Reporter/Humorist
Dean is a senior and second year journalist at JCP. After a year on the sports staff, Dean is the copy editor this year and has big plans with the broadcast...