Deciphering the dress code
Students react to revised dress code
At the beginning of the 2021-2022 school year, an announcement by Dr. Powers that stressed the importance of dressing appropriately caused concerns among the student body. 
In January, the Jones Local School Council (LSC) introduced edits to the dress code in order to clarify expectations for student presentation. 
"It seemed that there were some common issues around the dress code," said LSC member Roberto Menjivar, who drafted the revised dress code. "The previous dress code was very ambiguous, and left to a small group of individuals to decide what is and isn't appropriate."
Many students felt they weren't given much information about the previous dress code. 
"I don't really know too much about the dress code. I just know that we don't really have an official dress code like some other schools," said Tiah Watt '23.
The new dress code was intended to clarify the rules for students; the revisions list the types of clothing that students are allowed to wear while explicitly banning others. 
 "Jones College Prep is responsible for seeing that student attire does not interfere with the health or safety of any student," states the new dress code. "That student attire does not contribute to a hostile or intimidating atmosphere for any student, and that dress code enforcement does not reinforce or increase marginalization or oppression of any group."
So far, student reaction to the changes have been nonexistent; most people did not even know that any changes had taken place. 
"I do not know about any changes to the dress code," said Jiya Pai '23.
Even those who are aware of the dress code changes doubt it will change much about how students dress.
"I don't think any teacher is going to enforce it," said Safi Alnaqib '23. "I've heard from a lot of my teachers that it isn't their responsibility or their job to tell students what they should be wearing."
Overall, students are happy that the Jones dress code is lenient. 
"If it [the dress code] had stricter rules, students would want to rebel more. Also, they're just clothes and if the rules make it weird and sexualized, that's an institutional problem," said Gabriella Weaver '23.
The lack of a strict dress code even factored into some students' decisions when choosing a  high school.
"I saw that Jones didn't really have a dress code, and that really influenced me to go here," said Nora Wunsch '24.
When researching which changes to make to the dress code, the LSC looked at the dress codes enforced at other school districts and consulted organizations, such as the American Civil Liberties Union (ACLU).
"There were some great guest speakers from the Evanston Township school district and the ACLU," said LSC President Cassie Creswell. "We also looked at dress codes both inside and outside of CPS."
Most students said the new dress code avoided the issues that strict dress codes often create in school.
"This gets into societal issues," said Alnaqib. "How are dress codes enforced on people who live in bigger bodies versus smaller bodies? How is it enforced with different gender expressions?"
Leave a Comment
About the Writers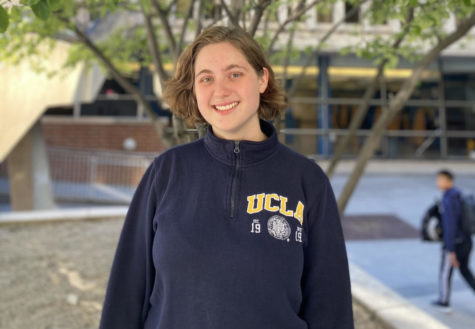 Karen Buecking '23, Lead Reporter
Karen is a senior and is Lead Reporter for the online section. She is in her second year on the Blueprint and is excited to provide local news and analysis...