Breezing on through
Varsity Valorant cruises to dominant win over Washington High
The Jones Varsity "Valorant" esports team won their season opener against George Washington High School on Wednesday, Feb. 23 with a match score of 2-0 (13-3, 13-1).
 "Valorant" is a shooter game with attackers and defenders switching roles after every 12 rounds. Matches are played to the best of three, and each match is won by the first team to win 13 rounds.
The Jones team held an opening advantage by choosing the maps to be played on and adapting well to opponent strategies.
"The choice of maps and the playfield that we were on we had already highly practiced," said co-captain Mackinnley Kuberski '22. "Both games we got, we started on the side of the map defending that gave us the largest advantage. So, in terms of attacking versus defending in matches, we had an advantage from the start."
Jake Weinstein '23 cited confidence as a big takeaway from the game by defeating a talented Illinois High School Esports Association (IHSEA) team.
"We've haven't played very many of the teams in the IHSEA league yet, so we weren't exactly sure how the competition was," said Weinstein. "We assumed, based on in-game rank and other things, that we would do well against the majority of these teams, but it was good to know that we were right. We believe the team we played was on the better end of the teams in IHSEA, so we're confident going forward."
Team strategy was also key to the Eagles' success over the Patriots.
"Our team composition in terms of characters along with our ability to play off of each other was definitely better than our opponents," said Kuberski. "They seemed to rely on one player to carry their team by setting them up for success, however we played to all five of our players' advantages."
Taehawk Oliver Oh '25 further cited good communication as an additional key aspect in the victory."I think we had really good communication and managed to bring ourselves together to play more seriously than we usually do," said Oh.
However communication was not completely smooth, especially in the beginning of the match, as pointed out by Kuberski.
"Our invoice was definitely a little shaky," said Kuberski. "I think a lot of the players were a little nervous at first and so we actually lost the first round because we had bad communication. Once we only say what needs to be said and drop the extras, strategizing will flow a lot more smoothly."
Throwing away rounds was also seen as something to improve on by Weinstein.
"One of our big focuses for improvement as we move into the season is not throwing away rounds that we should win," said Weinstein. "The way the IHSEA bracket is set up, it matters not only if we win, but by how much we win. So we've been very focused on not throwing rounds, and it is definitely something we are still working on going forward."
Kuberski distinguished Oh as a great team player in the game. 
"He comes to every single scrimmage and practice, he hasn't missed one," said Kuberski. "He is always wondering how he can play off of you and how you can play off of him. He always wonders how he can set up his team for success."
Oh applauded the entire team for the effort.
"They all did great," said Oh. "No one brought the team down in any way whether it be technically or mentally."
Weinstein seconded the notion of praising the whole team.
"Everyone played well today, and it really was a team effort across the board," said Weinstein. "Again, this game isn't a great tell of how we work together as a team because it wasn't very close. But so far, it's looking good."
Leave a Comment
About the Writer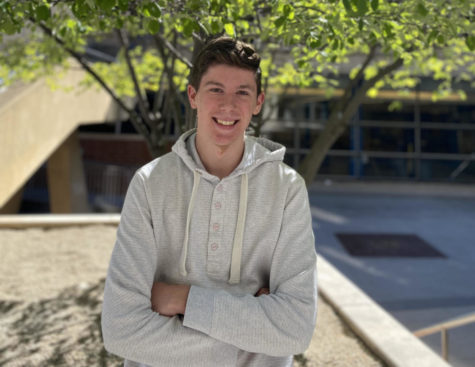 Noah Barbas '24, Online Editor
Noah is a junior and is the online editor for the Blueprint website. A second year journalism student, he enjoys making sure things look good. He plays...