Q&A: Pablo Lopez
Q: As the culture and climate coordinator, what do you do?
A:So that's a great question. My ultimate goal is to create a safe and welcoming, positive environment for the whole building. And so I have to, for now, tap into all of the things happening in the building and figure out what things can be better and what things are so great that we need to do more of.
Q: What experience do you have that qualifies you for this job?
A: I worked at Lane Tech for the last five years. I was the dean of students over there in charge of discipline. At the same time, I was part of the culture and climate committee. I was in tune with everything happening and I was very much happy to create different programs and just help to create an environment that made it safe and welcoming for everyone. And I think that gives me a lot of experience. In addition to that, I've also been working for Chicago Public Schools for the last 13 years and worked at other schools where I learned how important that culture and climate is for those schools.
Q: How do you plan on implementing a culture where students are made responsible for their actions?
A:I'm here to support the students after their disciplinary action. I believe in proactive consequences. I think they are what is going to help people learn that they made a mistake and give them ways that they can and will correct their mistake. I am not the one to issue disciplinary action, because I'm not a dean here, but if ever put in that task, because I have the experience, I'm more than happy to help. And if a detention needs to be warranted, then of course, I will assign a detention if warranted, but I don't believe in punitive measures. I believe in restorative philosophy.  We all make mistakes, but what are we doing to correct them? 
Q: If there's a situation where it's either a teacher/student altercation or student/student altercation, what would you do to resolve that?
A: Well, the first thing I would like to do, if both parties are inclined, is I'd like to have a peace circle or talking circle about it. Everyone's main objective would be, "How do we restore this?", "How do we fix it?", You know, it's just like at home, sometimes we have to agree to disagree. We're not always going to agree with each other. But that doesn't mean that even though we don't agree that there can be disrespect of any kind, and it doesn't mean that we can't get along.
Q: Since there will be no punitory actions, in what way will accountability be shown?
A: I'm correcting it first and foremost, just because you made a mistake, doesn't mean that you don't have consequences because of it. My biggest thing is what are we doing to learn from the mistake and how are we going to make sure that it doesn't happen again? And how are you correcting it? And is there remorse, you know, in the student or not? So those are the main concerns. If a student has no remorse, and they're not doing anything to correct their mistake, then of course, the consequences come accordingly because somehow they have to learn. But if a student you know didn't have ill intent, and it's actually a mistake, then how much are we going to punish them? But in most cases, I think restorative measures are the answer. So I think students should feel comfortable coming to me knowing that, although I'm going to be honest with them, I'm also going to be supportive.
Q: How will you account for student experiences and their input in response to the culture at Jones?
A: I came with some ideas already of some things that I wanted to do and I immediately met with students because I wanted to hear what they thought about it. Some of them were like, those are good ideas, but we don't think it'll work here because of this and because of that. I said, "Okay, well then let's forget about this and let's move forward to what will work." Sometimes, I follow my heart because sometimes I think "This is the way to go." But I do listen to what the students say and what they think because they have value.
Q: In what situations should a student reach out to you?
A: Great question. So it can vary. I mean, there can be so many different situations. They can reach out to me for any need. And if it's not me, then together we'll find who it is. I'm always always, always willing to help students any way I can.
Q: What is the best way to contact you?
A: Email for right now. However, I do have an office, the North side on the first floor, room 103. It's on the far side over there, behind the main stairs, and they're always welcome to come my doors usually open. They're welcome to come and see me or email me.
Leave a Comment
About the Writer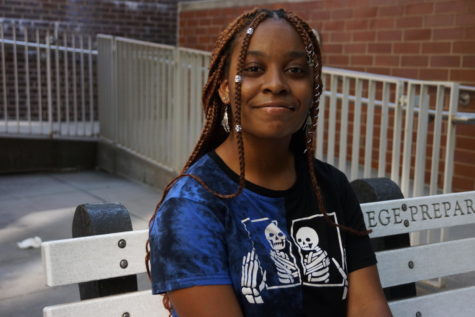 Akira Sinnott '22, Opinion Editor
Akira is a senior and the Opinion Editor. She can be found practicing phlebotomy or playing soccer. Her favorite color is red and she is so excited to...