Olympics are back (again)
Jones students weigh in on second Olympic Games in 12 months
While no Jones students are competing in Beijing, many expressed excitement to watch the 2022 Winter Olympics as the games return for their second COVID-19 iteration. 
"I'm excited to see athletes perform at their peak and attempt to reach world records," Joseph Friedman '23 said. 
Anshul Kelley '23 appreciates the Olympics as well.
"My favorite parts are hanging out with friends and family and watching the events, as well as eating some good food," Kelley said. 
Maddie Huang '23 echoed that excitement. 
"I'm literally so excited. I cannot wait," said Huang. "I love skiing so I'm pumped for the Winter Olympics. My favorite events are the snowboarding halfpipe, the terrain park, and ice skating."
Teachers are also getting in on the Olympics excitement. 
"I like the Summer Olympics more, only because I don't know much about Winter Sports," said AP Government teacher Jorge Perez. "Nevertheless, I'm excited to cheer on Team USA no matter what." 
Despite news outlets reporting a lack of household names competing in Beijing, many Jones students are nevertheless thrilled to see the likes of Michaela Shiffrin, Shaun White, and Chloe Kim perform at their peak performance. 
"I like Chloe Kim because she is a very good snowboarder," Alex Moy '23 said. 
Additionally, this year's Olympics allow sports such as skating to hold the center stage.
"Women's figure skating is extremely interesting to me. Maria Belle, Karen Chen and Alicia Liu are going this year to the USA for figure skating, and I'm extremely elated to see them compete," Greta Jung '23 said. 
Other Olympic events are also causing exuberance throughout the Jones community.
"My favorite event is slalom skiing. I'm also excited to watch Shaun White, who is coming back to do snowboarding. That should be interesting because he's pretty old," Kelley said.
With the Olympics being a constant throughout societal life cycles, many students also have child memories reminiscent of the games.
"I am very excited for the Olympics this year. I have a lot of childhood memories associated with watching the Olympics. I also enjoy the competition and the ferocity of everyone involved," Greta Jung '23 said. 
Leave a Comment
About the Writer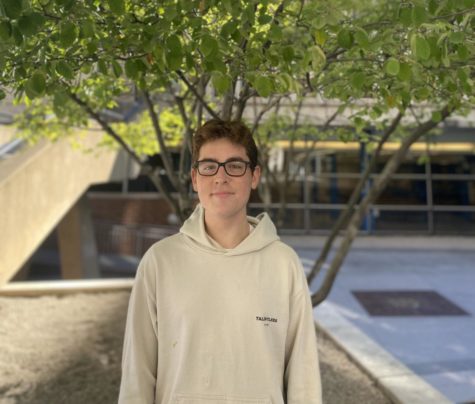 Gabi Josefson '23, Editor-in-Chief
Gabi is a senior who is exuberant to serve as the Blueprint's Co-Editor-in-Chief. It's his 3rd year on the Blueprint and he is thrilled to be part of this...