Hidden gem
Get to know the star of JCP Rocket League
From the outside, Bradley Lim '22 looks like every other high school senior: he hangs out with friends, plays sports, and stresses about college deadlines. But he has one big secret- he ranks Grand Champion 3 within the top 0.1% of players in Rocket League, an esport with over 98 million monthly players.
Rocket League at its core is soccer with cars, but with a bit of a twist. Each player's car is strapped with a rocket booster that grants the player extreme freedom of movement and allows for a very high skill ceiling. Lim first discovered Rocket League nearly a decade ago with.
"When I first got it, I would just mess around in the private match system because I didn't have the online subscription," said Lim. "But when my parents finally bought me the online subscription for the PS4, I played for the first 2 seasons and eventually lost interest because I had nobody to play with."
After a long hiatus, in 2018, Lim stumbled across a Rocket League Youtuber who specialized in freestyling (trickshotting). These videos reignited his interest in the game, and Lim found the inspiration to start playing ranked.
"I wanted to be able to do the same things they were doing. The hype behind those trickshots were unreal and I wanted to replicate it," said Lim.
Freestyling requires extreme dedication and time practicing mechanics to pull off increasingly precise tricks, which paved the way for Lim's rise in skill and climb of the in-game ranked ladder.
"I love Rocket League because I get to grind and improve it my own way," said Lim. "You can make smart plays and have good gamesense, but I just enjoy focusing on my mechanics the most."
However, ranked play does not cover all of Lim's future goals for the game. Lim also has aspirations to go pro and play with the best of the best.
"I want to make it to the Rocket League Championship Series (pro league) before college," said Lim. "That's the end goal."
Rocket League is not a game that you can just pick up and be instantly good at; it takes thousands of hours of practice and dedication to improve, and most players aren't up to the task.
"All I do is grind mechanics," said Lim. "I'm in free play most of the time, but an important difference is my mentality. I'm not one to get super upset or anything, I just try to improve."
Lim's immense dedication to the game and positive approach has also been noticed by his teammates.
"He has a lot of passion for the game and passion for his team. I think if anyone wants to try to be as good as him they have to really put the time in," said Jason Hart '22, one of Lim's teammates. "Bradley has really shown that, with that commitment, you can show up and become insanely good."
Team captain Ben Gottschall '23 also voiced praise for Lim's commitment to the game and skill.
"He's really solid and you can trust him," said Gottschall "When there's a play on the ball, you know he's going to pass to you and you know he's going to make a really good play."
Lim's dedication and love of the game has been a defining factor in the development of the Jones varsity Rocket League team.
"When he's around the game, he takes it very seriously," said Hart. "He gives us individualized criticism and goes out of his way to help us visualize and improve. When we're in games and he spectates us, he makes sure to distribute the help equally among us and really helps the whole team grow." 
Replay review (watching game replays to find and discuss mistakes) is an important part of the team's improvement process, and Lim's style is well liked among his teammates.
"He never really has negative critiques, it's always positive improvements," said Hart. "He doesn't want to bring anyone down, so if he has a big critique it's always followed up by things he thinks you did well, so it's really great positive reinforcement."
Lim's teammates have said playing alongside someone at a very advanced level is a valuable learning experience and really helps them improve their game.
"It's intimidating sometimes because he's so much better, but it's exciting because I'll do things I think are right, but he'll instantly shut it down and tell me it's wrong and this is the way you do it, and I'll immediately learn," said Hart. "He's breaking down the things that I think are good and helping me think the way he does, so it's really insightful to play with him."
Outside of the game, Lim has shown the same positive energy and friendliness that he does in game.
"He's a really chill guy," said Gottschall. "I didn't really know what to expect when joining the team this year, but I'm happy with who I met."
Leave a Comment
About the Contributor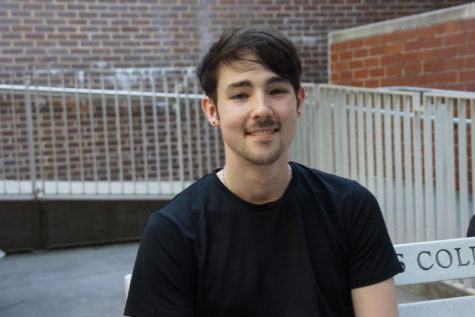 Nolan Danby '22, Sports Staff
Nolan is a senior who is currently a member of the sports section, he loves all sorts of art and can't wait to contribute to the blueprint.