Culture, climate, changes
Welcoming the new director of culture and climate
On Monday, Jan. 31, Jones' new director of culture and climate officially started. The introduction of Pablo Lopez and his new position brought hope to Jones community members. 
Some interested members include Local School Council community member Rachel Zein.
"With that position, we're hoping to uplift restorative practices and more holistic approaches to discipline," said Zein. 
But for some, what the exact definition of culture and climate is, and why a new position was needed may be a bit hazy. 
"Culture and climate is definitely something that requires someone who can kind of focus on all the different elements," said Assistant Principal Eric Mitchell. "It's not just one thing. It's not just restorative practice. It's not just school spirit. It's not just teacher support. It's not just student support, it's really all of those things kind of combined."  
Deciding on who exactly to hire would be hard without working with members from different backgrounds within the Jones community, so a committee was created. 
"The hiring committee was composed of a few staff members and a few community members, and a few administrative personnel," said Mitchell. "We had some conversation about what qualities we were looking for in this candidate, so we used that as our guide as we went through a whole bunch of resumes. We had a process [similar to a rubric] to follow and we scored those rubrics based upon the criteria that we're looking for. [Out of everyone] Mr. Lopez was one of the candidates that continuously stood out to us." 
One of the main focuses for the hiring committee was a candidate who'd be able to truly strengthen the Jones community. 
"He brings that energy of wanting to have more from all of us. And when I say all of us, it's not just students, just teachers, it's a whole staff," said Assistant Principal Yvette Torres. "He just wants all of us to know that we're all in this together, so we all have to chip in, in some way, shape or form."
To achieve stronger cohesiveness and connectedness throughout the school, Lopez will be focusing on introducing and utilizing restorative practices and tools. 
"I  want to give people the opportunity to repair the damage that they've done or the harm that they've caused, and to learn, reflect, hold themselves accountable and at the same time, use it to become better. I'm not about being punitive," said Lopez. "I think that it's important that we acknowledge mistakes, learn from them, and create a better environment, in spite of them."
Administrators and members of the hiring committee not only admired Lopez's intent to work with everyone at Jones, but his enthusiasm for his work also seemed to shine through.
 "His enthusiasm and energy and just passion for supporting students makes this a good fit," said Mitchell. 
In addition, Lopez also seemed to feel some of that positive energy reflected back to him. In fact, that was part of why he accepted the new position.  
"I said yes to [the job], because when meeting with the administration, I gave them ideas of things that I wanted to do to create a positive and safe and healthy environment for our building," said Lopez. "They were on board with a lot of my ideas, which made me feel good."
So far, it looks like many are hopeful for positive changes to come from this new position specifically dedicated to shaping the culture and climate of Jones for all within the community. 
"We can't fix the world," said Torres. "But we can definitely make a different impact in this world we live in if we start here." 
Leave a Comment
About the Writer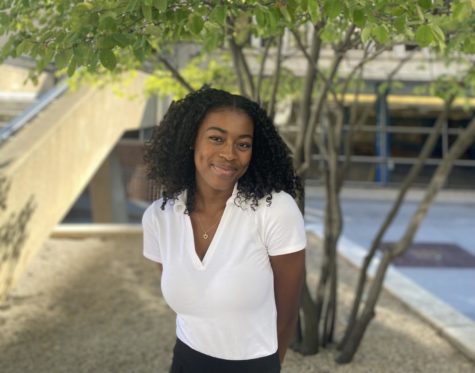 Ariel McGee '23, Deputy Editor-in-Chief
Ariel is a senior and Deputy Editor-in-Chief of the Blueprint! This is her second year on the Blueprint and she's extremely excited to continue honing...