Deterred
Loss in CPS playoffs snaps Jones' championship hopes, five-game win streak
The Jones boys varsity basketball team lost to Von Steuben 70-52 in the third round of the CPS playoffs on Feb. 9.
The biggest factor that caused the loss was the poor start to the game, where it seemed like there was a lid on the rim. 
"It was the story of the first half. We came out flat," said head coach Richard Kavalauskas. "We didn't execute offensively in the first half, which led to a lot of pressure on us defensively. It was all about the start."
Ethan Samuels '24 led the Eagles with 16 points, all coming in the second half. However, he was not satisfied with his individual performance or the team's.
"We were prepared, but we didn't come out like we were," said Samuels. "Toward the end of the game, it was how we play all the time. We need to always play like we're down 20 [points] because we can't come out flat like that. Especially against a good team."
According to team captain Romell Franklin '22, Von Steuben threw the Eagles off of their game from the start, which led to the team being timid.
"I just think we came out scared, and that's not us," Franklin said. "We let them take us off of our game, which is why we lost. We were on a five-game winning streak before that, and we didn't keep playing how we were playing [in the last five games]."
Jones settled for contested jump shots far more times than the team usually does. Von Steuben seemed to control the paint for the majority of the game.
"Having a 6'10 guy in the middle isn't something we see a whole lot," said Kavalauskas. "If he's not blocking your shot, he's changing it. He gave us a lot of problems."
Franklin expressed optimism about facing tall defenders in the future. He believes that the Eagles will be able to adjust to bigger players. 
"We have to be more physical. Yesterday, we didn't want to touch the 6'10 guy," Franklin said. "It felt like we were scared of him. If we get physical and get up into him, we should be good." 
Von Steuben's point guard hurt the Jones defense the most with 18 points, including 3 threes. But, players think that they could have easily stopped him. 
"Forcing him to go left would have put [their offense] in shambles because they always loaded the right side with shooters," Samuels said. "I had to either help over and give up a dunk or help over and give them an open three. Forcing him left really would've shut them down."
The Eagles have a game on Feb. 10 vs. Oak Lawn, who is 20-5 on the season. While the playoff loss hurts, Kavalauskas said that they need to let it go and focus on the next game.
"We need to learn from it, but we need to forget about it quickly as well," Kavalauskas said. "We have a quick turnaround against a team that's won their conference and is ranked in the top 25 [in Illinois]."
According to the players, they are going to use the loss to Von Steuben as fuel to beat Oak Lawn at home.
"It was a playoff game, so losing made us really angry. But, nobody believes in us [to beat Oak Lawn], and we're trying to get the upset," said Franklin. "It all starts with confidence. Once you build your confidence, you become more aggressive and the game comes easily."
Leave a Comment
About the Contributor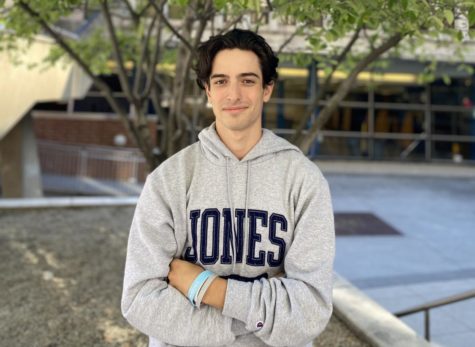 Jason Bernstein '23, Sports Editor
Jason is a senior and is the Sports Editor for The Blueprint this year. This is his second year doing journalism, and he is ready to keep the school updated...