Defending the nest
Eagles breeze past first two playoff opponents at home
The Jones boys varsity basketball team won both of their first two CPS playoff games, with a blowout 77-36 win over Excel Academy of Englewood in round one on Feb. 4 and a 54-37 win vs. Foreman in round two on Feb. 7.
According to head coach Richard Kavalauskas, the key to the team's success has been their defense and ability to force turnovers early. 
"Early on, we really want to pressure the ball, which we've done the past few games," said Kavalauskas. "Any time you can start that way, it gives us extra possessions and we get a jumpstart. How you start the game is really important."
Even while dealing with a foot injury, Ethan Samuels '24 led both games in scoring for Jones with 20 points vs. Excel Academy of Englewood and 16 points against Foreman. 
"We came out very aggressive. We handled business early," said Samuels. "Even though we didn't hit a lot of threes, we were executing what we wanted to. We always made the right play."
After missing the first round, Sam Obioma '23 stepped up vs. Foreman, where he provided a defensive spark as well as 7 points off of the bench.
"This feels great. It's the playoffs, so it's more important [than the regular season]," stated Obioma. "We have to take it day by day. We have to bring intensity every game."
Being captain of the team, Romell Franklin '22 said he was excited about the first two games, especially with this being his last year in high school. 
"With this being my last high school playoffs, it's always good to get wins," said Franklin. "But, now it's time to lock in and get ready for the [playoff game] on Wednesday [at Von Steuben]. We're just trying to keep the wins coming."
Staying ready for an opportunity is one of the most important parts of basketball, according to Kavalauskas. In the first round, some players who usually don't get very much playing time got the opportunity to play in the second half.
"I was ready for the moment. I drilled that [three]. I didn't feel anything, it was just a normal day for me," said Lucas Barash '23. "We have a next man up mentality. We have a really deep team."
Kavalauskas expressed his thoughts about the refereeing in the second round game vs. Foreman, where he and some players believed that there were many missed calls. 
"I always tell the guys coming into a game that you have to be 10 points better [than the other team] no matter what," said Kavalauskas. "We can't let officials mess with our game. We shouldn't have to worry about the referees at the end of the day."
As of Feb. 8, the Eagles have won four straight games. According to Alex Cuadros '22, it has been exciting to see the team keep winning and succeeding.
"We have to show love to our guys, our friends on the team. We have to have fun with it," said Cuadros. "[Recently], this has been some of the most fun [Jones] basketball I've watched. [As fans], we want to bring a lot of spirit to Jones College Prep."
View Comments (1)
About the Contributor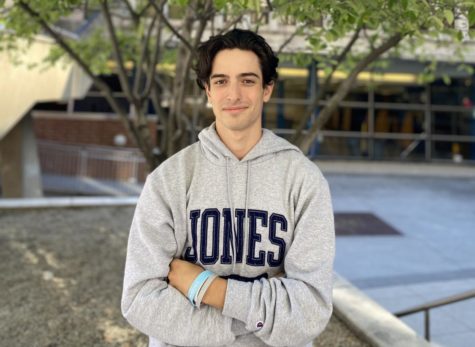 Jason Bernstein '23, Sports Editor
Jason is a senior and is the Sports Editor for The Blueprint this year. This is his second year doing journalism, and he is ready to keep the school updated...