Students lead protest for COVID-19 safety
CPS students organize walkout in solidarity with CTU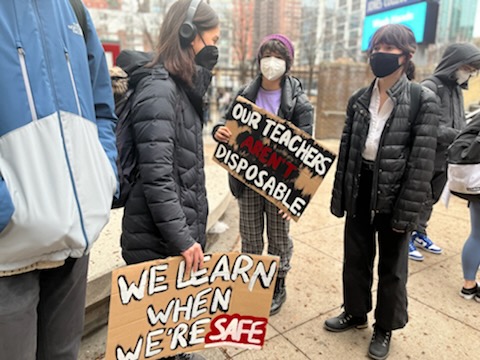 On Friday, Jan. 14, Chicago Public Schools (CPS) students staged a walk-out to protest Mayor Lori Lightfoot's refusal to meet the Chicago Teachers Union's (CTU) demands.
A youth-led organization called Chi-RADS CPS officially organized the protest on social media, demanding CPS to pay for CTA fares, reload EBT cards, resource drives, building upkeep, and stipends for families experiencing financial hardship due to the pandemic. Chi-RADS also demanded school COVID-19 protection materials, such as N-95 masks and antigen tests for every student.
"They're an organization that was founded by CPS students in response to not feeling very heard or supported by pretty much any adult," said Diondre Dunigan '22, who organized the protest with Chi-RADS. "I feel like a lot of times when these decisions happen about whether or not we're going to school and how to keep the kids safe, kids' voices are never actually heard or listened to."
After Chi-RADS released information about the protests, Jones administration sanctioned the walkout in a Jan. 13 email and gave permission for students to check in remotely for AcLab so they could participate.
"On the Jones end there was a little bit of confusion because of admin stepping in. They sent that email, which was good on their end for supporting it, but obviously as they opened the gates all the other kids were just leaving," said Clare Vogel '22. "But once we got to CPS headquarters it was just like any other protests I've been to."
 Vogel said the protest was organized well for being done so quickly by a group of young students.
"I think with protests in general being organized by high schoolers, like young leaders and young activists, there's going to be some bumps in it, " said Vogel. "But for what it was, I think it was organized pretty well."
Dunigan said the planning was disorganized and rushed.
"It was very, very chaotic, I will say, "said Dunigan. "We only had two days to plan the Jones-specific organizing. There was a lot to consider because we just kind of had to hear what people's opinions were just by going up and asking them."
Aidan Cullen '22 said he was hesitant at first to attend Friday's protest because of the demands listed by CHI-RADS.
"Things like 'every student should have CPS pay for CTA fares' is not necessarily that feasible," said Cullen. "And other demands along those kinds of lines can't really happen in the near future, or even in the far future based on the budget that the city has. But I think that everything was in the right direction."
Vogel said the protest was worth it.
"It was really cool to see the action being taken at Jones specifically," said Vogul. "And then on the Chi-RADS Instagram seeing posts from all different schools, it felt very collective everyone coming together. That was impactful."
Leave a Comment
About the Contributor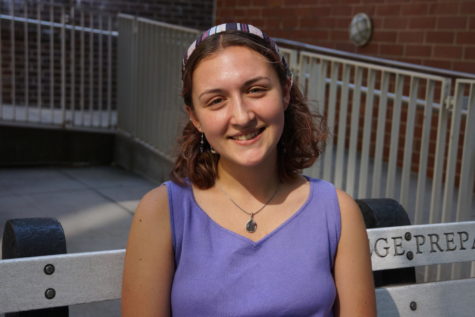 Whitney Shurtliff '22, Associate Editor, Print
Whitney is excited to continue at the Blueprint as Associate Editor of Print during their senior year at Jones. She also participates in National English...