Get it while it's hot
New pizza establishment opens across the street from Jones
A new pizza place, Bureau Pizza Co., recently opened across the street from Jones, aiming to attract students with discounts and free food.
At first, Bureau Pizza Co., located on 719 S State St., would open at 12 p.m. every day. However, Jones staff suggested they start opening at 11:00 a.m. to provide lunch to students for off campus lunch. 
"We saw that a lot of people were pulling on the door, asking why we weren't open," said Laci Aniya, a member of the staff at Bureau Pizza Co.. "My owner was like, 'let's get kids here.'"
Bureau Pizza Co. offers a 15 percent student discount, which encourages students to eat there.
"The student discount was also a nice touch. I thoroughly enjoyed it," said Natalia Diaz '24. "Art of Pizza doesn't have a student discount."
Along with offering a student discount, the decorations have encouraged students to give Bureau Pizza Co. their business. 
"We walked in, it's a cute little pizza place," said Gus Zaruba '24. "I liked the decorations."
The atmosphere, which the staff and decorations create, has provided a unique experience for students. 
"I thought it was really nice, the ambiance, the decor, and the feel of the place. I would say it is really inviting and customer friendly," said Eleanor Ceraso '24.
Students commented on the hospitality, and thought that it was another enticing factor.
"[The server] was super nice. She walked around. She made sure to talk to every table," said Zaruba.
The staff's interactions with students have encouraged them to return to the store.
"The service was great, the employees really make an effort to connect with the customers," said Ceraso. "The woman who is there all the time knows our names and we know her name, so that's nice."
Bureau Pizza Co. has shown a soft spot for Jones students, and Jones students have welcomed it. 
"She gave everyone who was from Jones free fries," Zaruba said. "She let [Jones student] choose songs to play on the TV."
Some students prefer Bureau Pizza Co. over other pizza places in the area.
"They have very large slices, even bigger than Art of Pizza, and cheaper," said Diaz. "I haven't tried most things on the menu, but if you are looking for a good thin slice pizza, come to Bureau."
The staff of Bureau Pizza Co. have also expressed gratitude for Jones students. 
"If [Jones students] didn't come to school, I would be bored," Aniya said. "For my Jones babies, I love y'all."
Leave a Comment
About the Writer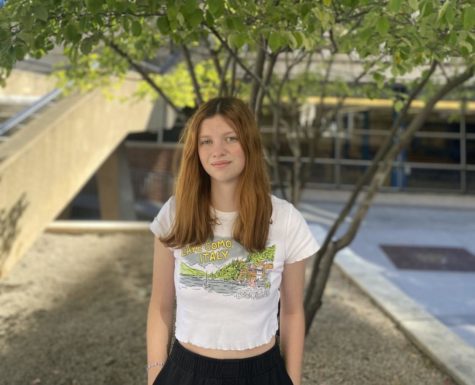 Meghan Cuddy '24, Deputy Editor-in-Chief
Meghan is a junior and the Deputy Editor-in-Chief of podcast and broadcast on the Blueprint. She is the team manager on basketball and participated in...