Students bothered by cancelation of classes 
Jones students question what will happen next after Wednesday's classes called off
On Jan. 5, Chicago Public Schools (CPS) cancelled their first day of classes due the Chicago Teachers Union's (CTU) vote to go remote, resulting in instability among Jones students.
With COVID-19 cases at their highest levels since the onset of the pandemic and notably high tensions between CPS and CTU, some students felt Wednesday's day off was somewhat anticipated. 
"I was definitely expecting this because it is hard for [CPS and CTU] to agree," said Tiah Watt '23. "Tension is always high, so I wasn't expecting anything less since they are in disagreement." ​​
Other students found the last minute decision to cancel school unexpected. 
"I wasn't really expecting anything to happen today because it was on such short notice. I was expecting the decision to go remote before winter break ended, as cases were surging before we returned on Monday," said Kacper Kobel '25. 
Mahrhoztal Rosier '22 felt surprised about the cancellation of the school day. 
"It does disrupt things, and specifically because it's not even that we're switching to online, we just don't have school today," said Rosier. "And I don't know when we're going to have school next."
Despite CPS claiming a remote learning day would have been an illegal move for the district, some students still believe a remote learning day would have been better than calling off classes. 
"I think that they should have at least given us a remote day so learning doesn't completely stop for everyone," said Watt. "We can regulate our learning as high schoolers, but a third or second grader can't really figure out what they need to do on a canceled school day." 
On the other hand, some students believe a sudden switch to remote learning would mean a lack of preparation from schools and staff. 
"If we suddenly had remote learning, it would force all of the teachers, some of which haven't prepared activities for remote learning, to switch to another teaching platform," said Rosier. "It would require a lot of infrastructure, planning, and logistics, so that switch wouldn't really have gone well."
Looking past Wednesday, Rosier thinks CTU will receive the remote learning they are asking for.  
"Given that we don't even have school today, it seems like CTU is pretty serious about getting what they want. So, more likely than not, I feel like we're probably going to have online learning," said Rosier. 
Similarly, Watt believes students will be remote while CTU and CPS figure out what the next move will be. 
"I don't think CPS wants to keep anyone out of school if they don't have to. So, I feel like we're going to end up being remote while they figure this out," said Watt. "I feel like this lockout was just a temporary showing of power."
Despite student predictions, Kobel feels it's hard to know what is going to happen in the future until the night before the next scheduled school day. 
"Going forward, I think we are going to have remote learning or CPS will lock teachers out, you just never know. They probably won't tell us until right before we go to bed," said Kobel. 
However, there is not a strong consensus from students on whether they would prefer a return to remote learning or a continuation of in-person classes with the current COVID-19 climate.
"I think we should stay virtual until the surge goes down, even though COVID-19 doesn't affect kids the same way it affects older adults, but there's still so many multi-generational homes in Chicago," said Watt. "Just staying virtual until we know it's safe or everyone has the proper resources would be the ultimate goal."
Kobel believes that the COVID-19 safety measures Jones has in place provide a safe space for in-person learning to remain. 
"I feel like at Jones I'll be safe," said Kobel. 
COVID-19 concerns and CTU and CPS tensions aside, students seem to agree that being in-person is truly a better experience. 
"Being in-person is so much better for everyone. Some classes just don't work virtually," said Watt. "Being in-person is exactly what's needed in the long run."
Leave a Comment
About the Writer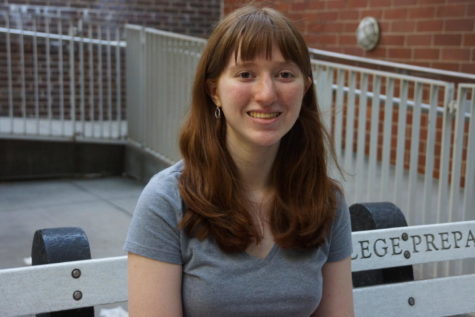 Sabine Kanter-Huchting '23, School Editor
Sabine is a senior and the Blueprint's School Editor. As her second year on the paper, she is looking forward to being a part of the Blueprint team again...