School's out — again
Classes cancelled by CPS after Chicago Teachers Union vote
Late Tuesday night, members of the Chicago Teachers Union voted by a 73 percent margin to switch to remote learning due to climbing COVID-19 rates, leading Chicago Public Schools (CPS) officials to cancel classes starting Jan. 5.  
The CTU vote was prompted by a sharp increase in Chicago's COVID-19 rates, which have reached their highest level since the beginning of the pandemic. They also believe that CPS has not taken appropriate action to protect teachers, students, and staff from COVID-19 risks.
"The [Chicago Board of Education] has unilaterally discontinued numerous health and safety protocols required under its February 2021 Memorandum of Agreement for the Resumption of In-Person Instruction," said the CTU in their remote work action resolution.
Chief among the CTU's concerns is the lack of COVID-19 rapid tests available to CPS students and faculty.
"Out of the 150,000 COVID-19 take home test kits it provided to CPS families at the end of December, only 35,223 (less than 25 percent) had been completed by Jan. 2, 2022, with 24,836 found to be invalid, and 18 percent testing positive for COVID-19," CTU said in the resolution. 
CPS has taken a hardline stance against the possibility of remote schooling.
"The CTU doesn't make decisions about how our CPS system works. The CEO does. He's the boss," said Chicago Mayor Lori Lightfoot in a press conference Tuesday, also calling the CTU resolution an "illegal work stoppage." 
The district feels the negative impacts of remote learning on student's academic progress and mental health outweigh the dangers posed by the latest COVID-19 surge. 
"A vote to stop reporting to work would cause profound harm to children's learning and health and be another damaging blow to the well being of our students and their families," CPS in a statement released Tuesday.
They point to high vaccination rates and the relatively mild symptoms of the Omicron variant in children as another reason switching to remote learning is unnecessary.
"I want to just reassure you, especially if you are vaccinated; if your child is vaccinated, this [the Omicron variant] is behaving like the flu – and we don't close school districts for an extended amount of time because of the flu," said Chicago Department of Public Health Commissioner Dr. Allison Arwady in a press conference Tuesday. 
CPS also emphasized that while classes are not in session and teachers are locked out of the school email accounts, school buildings are open to students and staff.
"I am not closing the schools," said CPS Chief Operating Officer Pedro Martinez. "The schools are going to be open. And so again, all staff will be welcome to come to school because we are going to have a plan for our families. I am not going to let our parents down." 
When CPS students will return to class – whether in-person or online – remains unclear.
"The action will end when one of the following conditions is met: the current surge in cases substantially subsides, or the mayor's team at CPS signs an agreement establishing conditions for return that are voted on and approved by the CTU House of Delegates," said the CTU in a statement on their Twitter account.
The CTU resolution also states that if neither of these conditions are met within the next couple of weeks, teachers will return to school in-person after Jan. 18.
Leave a Comment
About the Writer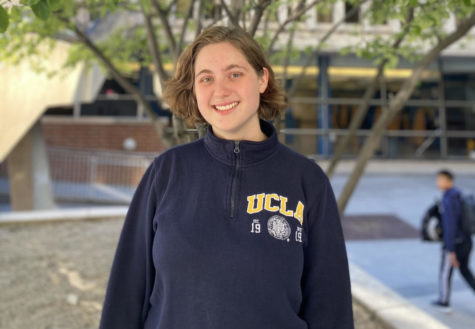 Karen Buecking '23, Lead Reporter
Karen is a senior and is Lead Reporter for the online section. She is in her second year on the Blueprint and is excited to provide local news and analysis...