CTU/CPS LIVE UPDATES [CLOSED]: School will resume on Wednesday 1/12
*updates have closed as this matter between CTU and CPS has been resolved*
8:30 pm January 10: Lockout ends as schools plan for students to return 
A deal was reached between CTU and CPS, clearing the way for in-person school to resume. Teachers, many of whom have been locked out of their emails since last Wednesday, will return to school tomorrow as schools plan for students to resume on Wednesday, January 12.
12:45 pm January 10: Administration informs Jones families that school will be canceled if an agreement isn't reached
In an email to Jones families, the school administration said that if a deal was not reached, there would be no school on January 11 or 12.
1:15 pm January 7: Administration emails Jones Families
In an email to Jones families, Dr. Plunkett said Jones will not be returning to regular classes on Monday, January 10 unless the matter between CTU and CPS is resolved. The email also stated that Jones will be open on Monday for students who want to work on projects or study. Facilities open include the library, the South Campus cafeteria, the Main Office, and the North Campus fitness room.
6:45 pm January 6: Students react to cancellation of classes
From The Blueprint's Sabine Kanter-Huchting:
On Jan. 5, Chicago Public Schools (CPS) cancelled their first day of classes due the Chicago Teachers Union's (CTU) vote to go remote, resulting in instability among Jones students. 
With COVID-19 cases at their highest levels since the onset of the pandemic and notably high tensions between CPS and CTU, some students felt Wednesday's day off was somewhat anticipated. 
"I was definitely expecting this because it is hard for [CPS and CTU] to agree," said Tiah Watt '23. "Tension is always high, so I wasn't expecting anything less since they are in disagreement." ​​
5:45 pm January 6: Dr. Plunkett emails Jones families and says decisions will be made one day at a time 
In an email to Jones families, Dr. Plunkett says that decisions regarding in-person classes will be made one day at a time until the matter between CPS and CTU is resolved. She also said that because only a handful of teachers have been on-site over the past two days, classes are unable to be held on Friday.
3:50 pm January 6: School Cancelled for Friday, January 7
Dr. Powers tweets that in-person classes are cancelled for Friday, January 7. Powers stated that the building will be open from 8 am to 1 pm for students to study and work on projects in the library. He also said meals will be available at the south campus cafeteria. CPS previously announced that the status of school Friday will be left up to individual principals.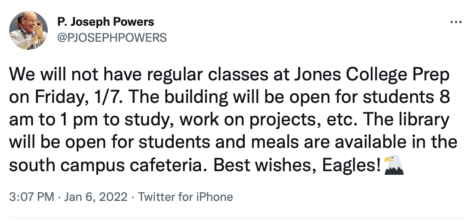 6:50 pm January 5: School Cancelled for Thursday
According to CPS CEO Pedro Martinez, school has been cancelled on Thursday, January 5. CPS and CTU officials met today to negotiate an agreement that would end the union's refusal of in-person work. According to CTU president Jesse Sharkey, there were substantive discussions, however it wasn't enough to satisfy the union's demands. Potential agreements could include a temporary shift to remote learning. In an interview with Univision earlier today, Martinez said a remote learning plan is in the works, however it will not be implemented this week. This means that school will be cancelled until an agreement is reached. It's also possible for in-person school to resume on Friday if an agreement is reached tomorrow.
For information on Wednesday's school cancellation, read this article 
Leave a Comment
About the Contributor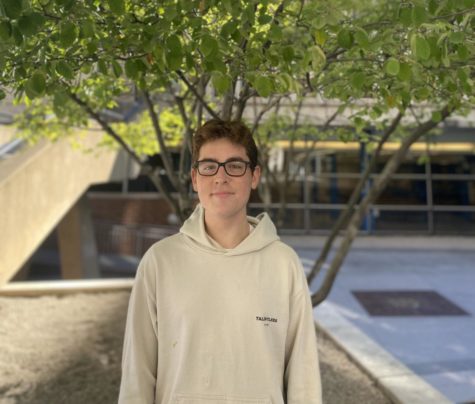 Gabi Josefson '23, Editor-in-Chief
Gabi is a senior who is exuberant to serve as the Blueprint's Co-Editor-in-Chief. It's his 3rd year on the Blueprint and he is thrilled to be part of this...