Crane, Crane, go away
Ethan Samuels' game-winner seals win vs. Crane Medical
The Jones Eagles boys varsity basketball team defeated Crane Medical 43-42. Ethan Samuels '24 nailed a game-winning corner three with 5.4 seconds left in the game on Thursday, Dec. 16. 
The team rallied behind Samuels' 27 points, in which he made five threes as well as the biggest shot of the year, which sealed the Eagles' victory. After the game, Samuels described what he saw on that last play.
"They were sending a 2-3 [zone], and there's no other way to beat a zone than just shooting out of it," Samuels said. "I practice that shot so much. They gave me that shot, so I was going to shoot it."
Head coach Richard Kavalauskas showed his admiration for everyone's effort in a gritty, hard-fought win.
"I feel great for Ethan, I feel great for the team. We hadn't run that last play in practice at all," said Kavalauskas. "We just drew it up on the sideline, guys got to the right spot, and Ethan hit a huge shot."
Michael Burke '23 had his first start of the season, as few players were down with injuries. He provided the game-sealing block on the defensive end and delivered many rebounds as well. 
"It felt great, we were very competitive [defensively], we really put an emphasis on that in practice this week leading up to the game," said Burke. "We really boxed out and moved the ball up the court fast."
Burke's teammates, who refer to him as "Lil Burkio," were proud of him for the work he put in. Leading the team along with Samuels, he took advantage of his opportunity in his first start of the year. 
"That man went to work. Every practice, every game, he works his [butt] off," James Mattar '22 stated. "He does not quit, and that showed it right there."
Romell Franklin '22 expressed his relief that he felt as he saw Burke block what would have been the game-winner for Crane.
"That was huge," said Franklin. "Number 11 [on Crane] hit two threes from the corner right before then, and if he hit that, we would have lost for sure."
On a night where the players executed when it mattered most, they were all grateful for their coaches after the game, especially because of the last play they created for Samuels.
"The coaches did a great job drawing up that play, everything fell into place," Samuels stated. "That was an excellent play by [coach] Kav."
The coaches were big on making sure the team finished the game, as Kavalauskas has said they've struggled with that this year.
"One of our points of emphasis for this group is to finish quarters strong," Kavalauskas said. "We need to continue to improve on that, but we sure did it tonight."
Leave a Comment
About the Contributor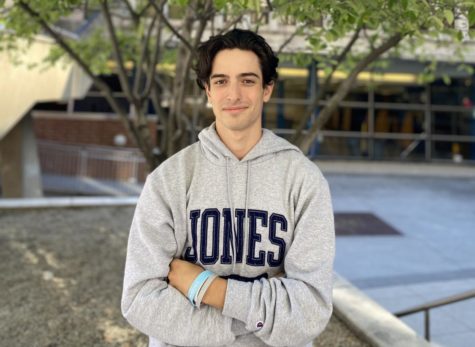 Jason Bernstein '23, Sports Editor
Jason is a senior and is the Sports Editor for The Blueprint this year. This is his second year doing journalism, and he is ready to keep the school updated...