Sophomore sensation
Sophomore Ethan Samuels starting strong in first varsity season
Though Jones varsity basketball hasn't won many games to start the season, things are looking up for 5'10 sophomore starting shooting guard, Ethan Samuels '24. 
Varsity head coach Richard 'Kav' Kavalauskas felt that Samuels great potential as a student athlete is apparent, even at a young age. 
"He has a desire and passion for the game and willingness to be coached. He's a great teammate," said Kavalauskas. 
In addition to his adaptability, Kavalauskas also noted Samuels' maturity.
  "A lot of times you get really good players come in when they're young, and usually they're immature," said Kavalauskas. "Ethan is super mature for his age, and he just wants to be the best teammate he can possibly be. I don't think you'll ever be around a bunch of guys on the team who dislike him." 
After the Jones loss to U-High on Nov. 30, Samuels' remarks about his performance demonstrated some of this maturity. 
"I feel like I could have played a lot better, especially in terms of working with my team," said Samuels. 
Samuels led the Eagles in scoring that night with 16 points. However, Samuels didn't immediately show this maturity or adaptability when he first entered the Jones basketball program. 
"As an eighth grader coming into his freshman year he was super shy," said Kavalauskas. "He's [now] opened up a bit. He is vocal and he's willing to lead." 
Current senior and varsity basketball captain, Romell Franklin '22, has seen some of this growth within Samuels as well. 
"I grew up with Ethan," said Franklin. "We went to the same grammar school so I've probably been working with Ethan since he was in second grade and I was in fourth grade." 
Samuels echoed similar sentiments about the closeness between him and Franklin.
"Romell has been a big brother to me, he showed me the ropes," said Samuels. "He really gives me a lot of confidence. I know he is someone I will always have to rely on."
As Samuels has grown into new confidence within the sport, it seems that his potential has grown with it. 
"He's one of our better players, one of our go to guys," said Kavalauskas. "I think there's no question that he can be one of the best players in CPS, and not only this year as a sophomore. I think he could be pretty special by the time he graduates here and be a Division I player."
Franklin also sees a lot of future potential in Samuels.  
"Ethan's only a sophomore on varsity, which is pretty tough. But, he brings good energy, good vibes to our locker rooms. He always talks high. He's always ready to go. He's always energized, which is great for us," said Franklin. "I see a lot of potential and he just has to keep working."
While the Jones Varsity Basketball team didn't win the Nov. 30 game, seniors on the team still set a great example, according to Samuels. 
"I want to shout out the seniors because they're always setting a great example for us," said Samuels. "They give me confidence, and the team confidence to come out and compete every day." 
Leave a Comment
About the Writers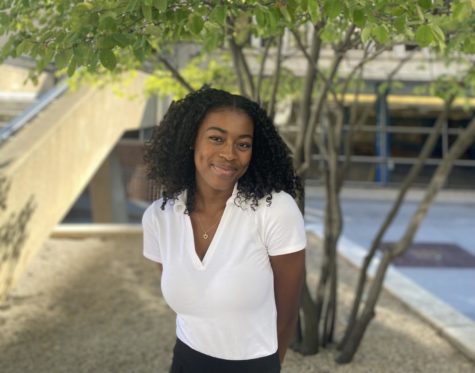 Ariel McGee '23, Deputy Editor-in-Chief
Ariel is a senior and Deputy Editor-in-Chief of the Blueprint! This is her second year on the Blueprint and she's extremely excited to continue honing...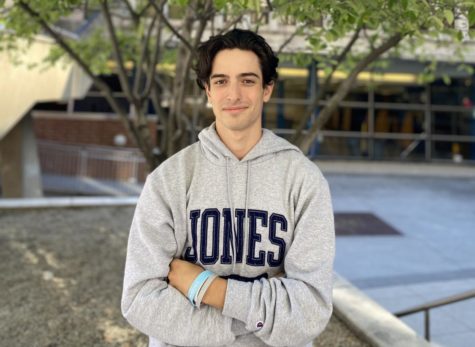 Jason Bernstein '23, Sports Editor
Jason is a senior and is the Sports Editor for The Blueprint this year. This is his second year doing journalism, and he is ready to keep the school updated...