Knead to know the best pizza
Jones students' opinions on best pizza around campus
Students have quite a few pizza options around campus, but which is the best?
Options for off-campus pizza restaurants include Lou Malnati's, Art of Pizza and Blaze Pizza.
"I like Art [of Pizza]," said Ian Hudson '22. "It's cheap, $5 for a slice, and they have really good pizza. I like that they serve by the slice."
Art of Pizza is relatively new, with its State Street location opening in 2017, leaving Mr. Tom Bochnak, a social studies teacher at Jones, wary of trying it.
"They're a newcomer, and once I've tasted a good slice [of pizza], sometimes I don't feel like being adventurous," said Mr. Bochnak.
However, Art's deep dish is a favorite for Asher Berman '24.
"I like [Art's] deep dish, especially the Art Special. That one's amazing," said Berman. "I'm personally a deep dish guy, and that deep dish is just incredible. I can't resist it."
This is not to say that Art of Pizza has no competition; students like Cristopher Rocha '23 also mention Blaze Pizza in close competition with Art. 
"It's quick service, the pizzas are really good, and you get a student discount," said Rocha. "[Art of Pizza] is pretty good, the pizza's pretty decent. It's equal to Blaze, I'd say."
Blaze is not without it's pros, but it would still generally be put behind places like Art, as stated by Berman.
"Blaze is good if you're in a rush, if you want to get your [pizza] custom made in a quick minute," said Berman. "I don't think it's as good as the other places around. I do like Blaze when I'm on the way home from school because there's [a location] by my train stop."
Hudson has had Blaze many times before, but comments on its thin quality.
"I like Blaze, but I've kind of had way too much Blaze and it's not good anymore. It's kind of too thin for me," said Hudson.
Bochnak stated Blaze isn't his first choice.
"I've had Blaze at a different location. It's cheaper and filling, but [the quality of it] sucks," said Bochnak.
Lou Malnati's is the other big pizza restaurant by Jones, one that is said to be more worthy to rival Art of Pizza than Blaze, according to Hudson and Berman.
"I love Lou Malnati's, the crust on their pizza is incredible," said Berman. "The best in the city."
Hudson worked at Lou Malnati's before, and said he ate it a lot while at work.
"I've actually worked at Lou Malnati's, they have really good pizza," said Hudson. "Although I had to eat it every day for the whole summer, so I don't like it that much anymore."
Bochnak also expressed his love for Lou Malnati's dishes.
"It's all about that deep dish. I love it fried," said Bochnak. "It's buttery, it's just amazing."
Pauly's Pizzeria was named a favorite before it closed down and was replaced by Bureau's Pizza Co., according to Hudson.
"Pauly's was really good; I'm really sad that Pauly's got shut down," said Hudson.
Bochnak also stated his love for Pauly's before its closure.
"I used to enjoy Pauly's pizza, and I think they changed ownership or names recently," said Mr. Bochnak. "I think I liked the proximity, honestly. During my lunch I value 'me time,' so for me, distance is way more important than quality."
Leave a Comment
About the Writer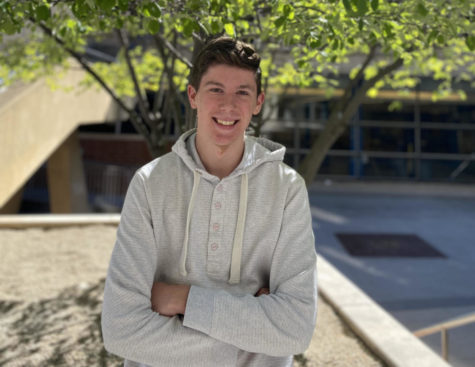 Noah Barbas '24, Online Editor
Noah is a junior and is the online editor for the Blueprint website. A second year journalism student, he enjoys making sure things look good. He plays...