In her DNA
Senior basketball player has family roots in the sport
Taylor Yaklich '22 is only in her second year at Jones College Prep, but has become a key player on the girls varsity basketball team during the 2021-2022 season.
"Basketball has been part of my life since I was born," said Taylor Yaklich. "I've always been part of this kind of sports life and he's just really taught me to love the game." 
Yakilch's father, Luke Yaklich, has coached for schools like Illinois State, Michigan, and Texas. Right after the COVID-19 shutdown, Yaklich took his first head coaching job at the University of Illinois at Chicago (UIC). After moving to Chicago, Taylor enrolled at Jones for her junior year, but what was meant to be an exciting first year at a new school became a year at home due to the pandemic. 
"I met people last year during the COVID-19 season, and they were the only people I met, so it was really great to bond with them and get a feel for Jones," said Yaklich.
Girls Basketball Coach Nick Teich thought Yaklich fit right in with her new teammates. Although some of the girls had been playing with each other for many years, they took her in as one of their own.
"Immediately I thought Taylor did a great job of fitting in with our group," said Teich. "She did a great job of blending in."
That connection has given the Eagles a strong push going into the new season. Being familiar with her teammates and having a year under her belt gives Yaklich a good feeling about this season.
"It's been great going into the season, and already having that bond with the girls. It prepares us better and gives us a lot of chemistry on the court," said Yaklich. 
On the court, Yaklich is a skilled center that has a high aptitude for the sport.
"Her best attribute is getting to soft spots in the zone, working the ball inside out when necessary or taking a basket drive," said Teich. "She's also a really good screen setter and communicator on defense too."
Teich utilizes Yaklich on the offensive side. The team has even incorporated plays that revolve around her and her skill-set.
"We have a set where we put Taylor in the lane and then we essentially motion a set of four out with one end," said Teich. "We have our guards rotate around the perimeter with Taylor in the center."
Yaklich has learned from the best. Her dad has shared wisdom and has helped coach her. He has helped further her development as a player.
"He's taught me to value certain aspects of [basketball] that some people don't really see," said Yaklich. "It's been really awesome to have him in my life as a mentor because he's such a great coach, and it's a great opportunity for me to learn from him," said Yaklich.
Joining a new team can be tough, but Yaklich has been able to adapt quickly to Coach Teich's plays and strategies. This has led to a seamless transition into the team's starting rotation.
"Taylor caught up quickly. She learned very, very fast," said Teich. "She definitely is from a basketball family and has a high basketball IQ." 
In her second year with the team, Yaklich has taken on a larger leadership role. Along with Bailey Zalewski '22, Yaklich is a co-captain for the Eagles. 
"She's personable. She's respectful. She's a nice kid and she loves playing basketball and she likes working hard during practice," said Teich.
Yaklich is enjoying a sense of normalcy again. With school being back in person, this year has been more fun and enjoyable.
"It's been really great to finally be back and get the atmosphere of a real game and to have fans again," Yaklich said.
Yaklich does not plan on playing basketball in college. She wants to enjoy her senior year and is going to take it one game at a time.
"I think I'm just gonna stick with the high school season and kind of make it my best," said Yaklich. "[I want to] just have fun with it and see where it takes me."
View Comments(1)
About the Writer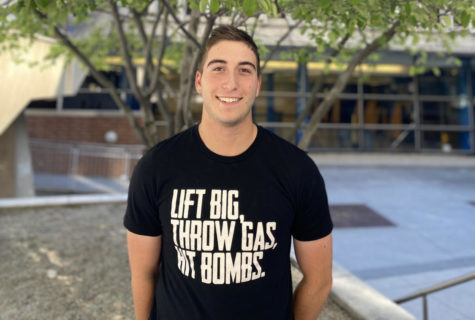 Dean Goldman '23, Lead Reporter/Humorist
Dean is a senior and second year journalist at JCP. After a year on the sports staff, Dean is the copy editor this year and has big plans with the broadcast...