Disgusting or delicious?
Bureau Pizza Co. food review
Bureau Pizza Co. is directly across the street from Jones, offering everything one would expect from a quintessential pizza joint. The vibes inside the place are immaculate.
The menu ranges from pizza to mozzarella sticks, and much more. I ate what are generally the staples of any successful fast-casual pizza place: a slice of pepperoni pizza, a calzone, and some fries.
A slice of pizza is five dollars, but the "Monster Slice" is from an 18" pizza and the restaurant gives Jones students a 15 percent discount. 
However, while one slice will fill you up, it doesn't mean that you will want it to. One of my favorite celebrity chefs, Alvin Leung, has one famous line from being a judge on the TV show MasterChef Canada, which is, "taste is king." I stand by that statement now and forever will. The slice on the menu is listed as thin crust. Despite that, it is far from what I am used to in a thin crust pizza. 
When it comes to pizza, I'm a minimalist. In this case, I wanted a crunchy crust, a light tomato sauce with a hint of salt, a slight milkiness from the mozzarella cheese, and a spice kick from the pepperoni.
That is far from what I got. I was bamboozled by the sheer amount of cheese that was added to top the pizza. It was loaded with pepperoni to the point where the entire slice was soggy from grease. This led me to not be able to feel the true texture of the crust, which is widely regarded as the most crucial element of a pizza, or taste the tomato whatsoever, which was disappointing. 
Everything regarding my opinion on the food flipped as soon as I took a bite out of a classic french fry. You get a hefty amount of fries for the $4.95 that you pay for them. They are lightly coated and fried, topped with salt and some chopped parsley to give it an earthy note. They add the right amount of salt, and the parsley isn't overpowering.
The trait that these fries possess and others don't is that they are equally good with and without ketchup. When I try other fries, if the ketchup makes it significantly better, then the fry itself to me is mediocre, at best. Bureau's fries are just as tasty with and without the condiment. I can eat these daily for the rest of my life and not get tired of them. 
The best item, however, was the calzone. For $13.95, it's a huge value. Four fillings of your choice, not including cheese, and marinara on the side.
The crust is perfect. Crispy, puffy, and even with all of the food stuffed into it, the bottom doesn't get soggy, contrary to the pizza. It is brushed with garlic butter and herbs as well, making adding the perfect touch.
What I didn't mention about the calzone is that it is the size of an NFL football. It's absolutely massive, I'm going to get two meals out of it, which is one of the primary reasons why it's a bargain.
Bureau Pizza Co. has a wonderful atmosphere, charismatic staff, and is in the perfect location for Jones students. Their fries are the real deal, and the calzone is about as good as it gets. But, what they're supposed to be known for is my least favorite item out of the big three, which hurts.
Leave a Comment
About the Writer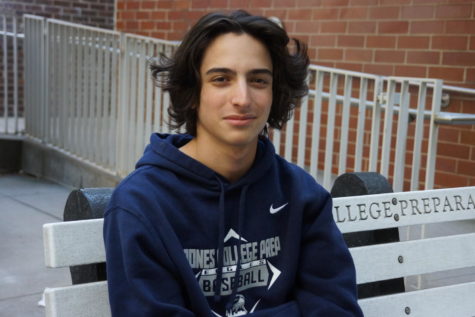 Jason Bernstein '23, Sports Staff
I love sports. They have been a huge part of my life ever since I have been able to function, hence why I chose to be on the Sports Staff. My father is...