Balancing books and bliss
Senior shares her story about pursuing music, acting, and writing
Bernadette Schwegel '22 is answering the call to pursue artistic endeavors while managing the responsibilities of being a Jones student and a good friend. 
Schwegel spends some of her free time acting for both theater and film programs. In fact, her first acting experience was for a commercial.
"I was maybe 11 or 12, and I did a commercial for Quaker Oats," said Schwegel. "I remember getting the email saying I got the role, and was like: 'What?' It was a weird moment for me."
Since then, she has taken up roles in multiple notable television shows and programs, such as her part as an extra in "Shameless." The experience she holds closest to her heart, though, was her role in "Chicago Fire". 
"When you dream of being an actress or an actor, you think your experiences are going to be like those you see in the movies, and that ["Chicago Fire"] experience was a lot like what I saw in the movies," said Schwegel. "It was kind of like reliving a dream, and that's why I really loved it."
Despite success in both theater and acting, Schwegel faces the challenge of rejection.
"Getting rejected is very difficult, especially when you get your first rejection. You question, 'Am I really supposed to be doing this?', 'Is this for me?', 'Am I good at this?'," said Schwegel. "But I've learned rejection doesn't mean you're bad at what you do. It's just that it wasn't the role or the specific sheet of music for you." 
For both her success and challenges, Schwegel credits her family for sparking her interest in acting. 
"I got involved in acting because my brother grew up in theater, and I would always go to his shows and be like, 'I've got to do this!'," said Schwegel. "So I tried my hand at it and I just fell in love with it."
Schwegel's family encouraged not only her love of acting, but also her love of music.
"My family is a very musical family, and my dad plays the piano, so that was the first ever instrument I learned to play," said Schwegel. "In middle school, I started learning violin and the recorder, as well as the ukulele and the guitar. Recently, my family just got an electric bass, so I've tried my hand at that. We also have a harpsichord."
However, her main instrument is the harp.
"I really only perform with my harp now, it's become my sole instrument… It's always interesting to look at a popular song and just see if I can play this on my harp, and it is this kind of fun love for it that keeps my harp playing going," said Schwegel. "Also, there's not a lot of harpists in Chicago, so there are jobs that you can get, and those are good for paying for college."
One of those jobs happened to be playing for Easter Mass on television. 
"I think for the harp, my biggest accomplishment was being asked to play for the Easter Mass on WGN," said Schwegel. 
Many of these large performances happened before the pandemic, but Schwegel has also taken advantage of her time at home by publishing a book. 
"I wrote Greenie [my first book] when I was 6 for a kindergarten project. My kindergarten teacher spoke to my mom and suggested we actually publish the book. But then we never actually did," said Schwegel. "And then during the pandemic, we were all wondering what we were going to do with our time. And I was like, 'Why don't we publish this book?'." 
In fact, she wrote and published many more books between kindergarten and the publication of Greenie. 
"Fast forward to high school, I've definitely taken up writing as an actual hobby and I write on an online platform. I think I've published a little over 30 novels right now," said Schwegel. "Whenever I'm not doing schoolwork, I'm probably still on my computer writing."
She ascribes her determination to keep writing to her love for the art and her audience. 
"As an author, I love it because it's something that I enjoy doing and that I hope to do as a career. I do have an audience where, every time I upload a chapter, they're there to read it and leave comments. Just knowing somebody is reading my work keeps me going," said Schwegel.
Phoebe McConnell '22, a friend of Schwegel's that she met through volunteering for Freshmen Connection during the summer of her sophomore year, attributes Schwegel's success in all areas of her life to her character. 
"She's very optimistic and open-minded. Because she believes in herself, she is more capable of doing these things. Because she's so encouraging of herself and others, it comes naturally to her," said McConnell. "I think she is really deserving of all the things that she's accomplished."
Schwegel says her goals in life are what gives her the motivation to do a variety of things on a high level.
"When I was a kid, I always had these grandiose dreams of what I wanted to do with my life, and they serve as motivation as I still want to do them," said Schwegel. "I know you have to keep going and you have to keep doing what you're doing."
Another friend of Schwegel's sees determination as an important piece of the puzzle that allowed her to be both a student at Jones and involved in many outside activities. 
"I think when something is important to her, she will make time for it. When I think of Bernadette, I think of the saying: 'If something is that important to you, you will find time for it,'" said Adriana Matesanz-Rodriguez, a senior at Walter Payton College Prep. "I think that dedication is what helps her ultimately balance everything important to her." 
While Schwegel balances school with the different aspects of her life, Matesanz-Rodriguez notes her humble personality. 
"I want people to know that Bernadette does not think of herself as this great, accomplished person, which I think really speaks to how she does everything she does," said Matesanz-Rodriguez. "She does it all out of a space of pure joy, love, and dedication, which to me is one of the most impressive things about her."
Leave a Comment
About the Writer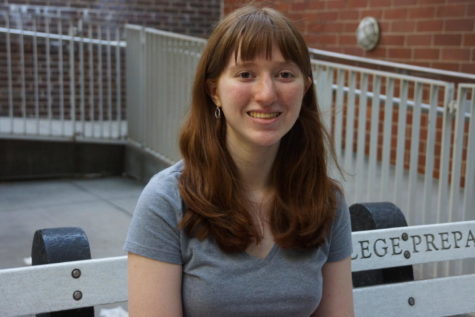 Sabine Kanter-Huchting '23, School Editor
Sabine is a senior and the Blueprint's School Editor. As her second year on the paper, she is looking forward to being a part of the Blueprint team again...