A COVID-19 style comeback
Performing arts students and teachers gear up for the fall and winter concert season
As the winter concert season begins, performing arts students and teachers are looking forward to hosting in-person events despite precautions for COVID-19.
Vocal music teacher Katie Colby is excited about her departments' end of semester concert on Jan. 13, but is questioning how COVID-19 will affect the event's ability to go forward as usual.
"It will be a normal performance for students in that we'll do our full set and we'll do it in costumes," said Colby. "The real questions are about how many people will be in the audience. Will there be a live audience? Will this be filmed and live streamed? We're not committing to anything firmly until we know what the public health situation is at that time."
Concern lingers surrounding the logistics for the dance concert, taking place on Dec. 9, especially when it comes to distancing the 150 performers. 
"On the performers' end, they will have to be masked on stage. Then for our backstage area we will utilize the cafeteria and possibly, [if] it makes sense logistically, the third floor for us to get ready so that students can spread out more," said dance teacher Elisa Foshay.
For audience members at the fall dance concert, capacity limits means there will be two showcases in one night, versus the typical one showcase in pre-pandemic times. 
"Due to the capacity limits we're going to do two shows in one night, instead of just one [show per night]. The audience is going to be at 50 percent capacity, and I anticipate that we're going to have to do the contact tracing form," said Foshay. "We'll offer a digital program as well as a paper program too." 
Orchestra is following suit with 50 percent capacity, masking, and contact tracing for the crowd. Orchestra Director Rhea Basa feels confident about the winter concert taking place on the first of December.
"For us, since we're not singing or speaking, the risk is lower from COVID-19. So I feel pretty secure," said Basa. 
Though many students and teachers are struggling to make regular events COVID-19-friendly, the performances this school year have been successful, according to the Jones Marching Band, which performed at the Pep Rally on November 3.
"We were actually able to have a lot more people in this one, and do a very similar routine to the one we did in 2018," said Jason Shacter '22, saxophone section leader and student organizer for marching band events. "The only real difference was the masks and having to do two pep rallies."
Performing arts classes have faced many unique challenges during the pandemic. For example, the Choir Department struggles with singing socially distanced.
"Chamber Choir's been having this issue where people are really far across the room and we can't match our sound as well, so we have to make sure we turn to each other so we can match our sound," said Claire McHugh '23, a Chamber Choir student.
The Band Program, in contrast to struggling with social distancing, has found issues with utilizing masks in their performances.
"A lot of people don't wear their masks while playing. But I also understand that the masks we were given are not geared towards flutes or some other instruments, so they don't really have a choice," said Ella Bahna '23, the clarinet section leader in Concert Band. 
Many orchestra students are actually feeling more positive about mask-wearing than other performing arts students.
"Actually, masks make it a lot easier. I can count with my mouth or quietly under my breath because the mask stops people from being able to hear me super well," said Concert Orchestra member Brooke Jenkins '25. 
Overall, precautions taken by the Orchestra Program are making many students and teachers feel more secure. 
"We already kind of have to be spread out because our instruments are big. I also don't share a stand with anyone and we are all masked, so I feel pretty comfortable when performing on stage," said Jenkins. 
For the Dance Program, Foshay says she is balancing Chicago Public Schools' district COVID-19 protocols and her own judgement when it comes to students' safety.
"As the expectations regarding COVID-19 from the district shift, and the expectations at our school continue to evolve, we have to make sure we're adapting and complying with what is being mandated," said Foshay. "But also doing the things that I feel are going to be safe for the students to not put anybody at undue risk."
The pandemic has also resulted in a large number of first-time performers, as students did not perform in-person last year. 
"I think many of the students, even the ones that are in Dance 2 and 3, have never performed on our stage downstairs. And so, that's something I think is making a lot of students a little nervous," said Foshay. "The number of students this year who have never done a live performance means we're going to be carrying more people through that process for the first time than normal." 
Despite these challenges, being able to interact with classmates in person has made a huge difference, especially in the performing arts programs.
"I'm glad I'm actually playing with other people, which is much more enjoyable than playing by yourself," said Bahna. "After all, the point of band is to play with other people."
The excitement from students being back with their peers in the classroom and working towards more normal performances can be seen in the quality of student's work, which Foshay noted about her dance students.  
"I think the students, especially the juniors and seniors, are doing a great job working this year. They have come back so motivated and excited to do the work," said Foshay. "It's been really exciting and rewarding for me as a teacher to be able to work with them." 
Teachers and students alike are grateful for the opportunity to perform together in person once again, even though extra effort is needed to follow COVID-19 regulations.
"At the end of the day, it doesn't matter how uncomfortable we are wearing masks. It's a million times better than trying to sing in a group while everyone's at home by themselves," said Colby. "Pretty much all of my students would agree that we'll do anything to keep us singing in person, because that is so much more fun."
Leave a Comment
About the Contributors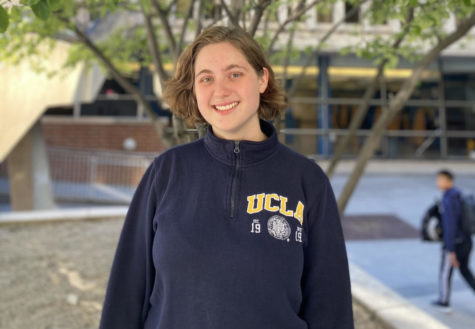 Karen Buecking '23, Lead Reporter
Karen is a senior and is Lead Reporter for the online section. She is in her second year on the Blueprint and is excited to provide local news and analysis...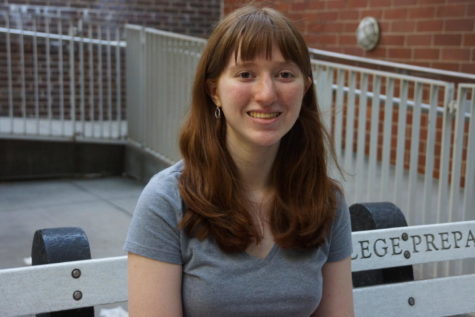 Sabine Kanter-Huchting '23, School Editor
Sabine is a senior and the Blueprint's School Editor. As her second year on the paper, she is looking forward to being a part of the Blueprint team again...