Boxed out
Jones boys basketball suffers opening night loss vs. Lane Tech
The Eagles lost 70-46 to Lane Tech on their opening night Nov. 22. The loss was largely due to many turnovers and a lack of rebounding on both ends. 
Head coach Richard Kavalauskas said he liked the way the team started the first half, but their rebounding flaws were what hurt them the most. 
"Overall, we just got killed on the boards," Kavalauskas said. "It's going to be up to us to block those guys out, get them off the glass if we want to have a chance to win."
Twins Jordan Boston '22 and Devin Boston '22 were disappointed with the result but stated that it was only the first game with plenty of time to get on track.
"We'll bounce back from this one," said D. Boston. "We just need to keep doing our thing and get to the basket."
Some of the issues were self-caused and little mistakes that don't normally happen, according to J. Boston.
"It was finishing layups, making jump shots [that we struggled with]," said J. Boston. "We had open looks and didn't convert."
Lane Tech took advantage of offensive rebounds, creating second chance opportunities and ultimately, many points.
"Second chances really killed the game, that was really how they were getting the lead," stated Chris Childers '23. "We weren't boxing out and we weren't getting our defensive boards."
It was the first varsity game for many of the players, most notably Ethan Samuels '24, being the only underclassman to be on the team. Despite being the youngest on the team, he earned the start at shooting guard. 
"I think he's going to be a great player for us, not only this year but in the future as well," Kavalauskas stated. "He also has a lot of great senior guards he's with at this point."
Two of those senior guards are the twins, who were the top scorers for Jones. D. Boston said the group needs to keep pushing in order to come out with wins.
"We just have to keep at it, keep attacking," D. Boston said. "We have to bring intensity to every game, every half, every quarter."
Lane's full-court press caused numerous turnovers for the Eagles, especially late in the second quarter, when they flipped a two-point deficit to a 13-point lead at the end of the half.
"We have to slow down, control the ball better," said J. Boston. "Getting the ball to the middle, hitting the wings, and breaking the press [will help us significantly]." 
However, nobody seemed concerned about how this loss will highly affect the season. It was their first game, and according to Childers, everything will be just fine.
"It's really hard to judge the whole season based on the first game," Childers stated. "We just have to tighten up a few things, I'm not worried, we'll be straight."
Kavalauskas said that there were even some in-game improvements when they adjusted more to the full-court press in the second half.
"I thought we settled in a little bit in the second half, especially once we called a timeout," stated Kavalauskas. "Our guys know what they need to do."
Leave a Comment
About the Contributor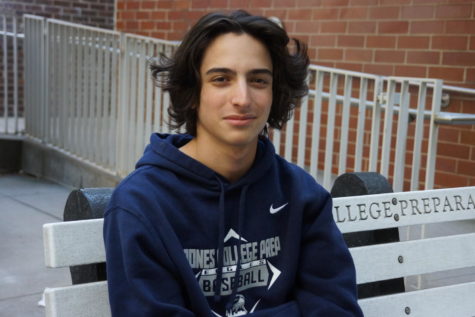 Jason Bernstein '23, Sports Staff
I love sports. They have been a huge part of my life ever since I have been able to function, hence why I chose to be on the Sports Staff. My father is...