LSC accused of antagonism, lack of transparency
Parents, teachers and students express frustration in Nov. 16 Special Meeting
In a Local School Council (LSC) Special Meeting held on Nov. 16, the Jones LSC came under fire for lack of transparent communication, adversarial conduct towards administration, and other cultural and administrative issues. 
The Special Meeting's stated purpose was to discuss Principal Paul J. Powers's conduct at a Nov. 9 meeting, during which Powers signed off after a tense confrontation with LSC chair Cassie Creswell. 
"That was really the basis for having a special meeting and having a closed session to discuss that conduct, essentially," said Creswell. "I understand that Dr. Powers does not like public criticism…he doesn't like being put on the spot. It makes him very defensive and upset. That's a human response, but in a professional setting, you have to kind of step outside of yourself and say, 'I need to respond to this critique.'"
The Special Meeting opened with public statements from students, parents, and community members. Norman Leon, a lawyer and Jones parent, said he was dismayed that Dr. Powers was the subject of the meeting as he believes Powers is an overall exemplary principal. 
"I do understand that this council has requested some information from Dr. Powers and it believes that he has not been sufficiently responsive," said Leon. "There is a very large and quickly growing group of parents that are concerned about the way this council is treating Dr. Powers. Actually, alarmed would be a better word….Based on watching [previous LSC meetings], I do think some of those concerns are well-founded."
Another parent, Amy Hand, shared a similar point of view of the Nov. 9 proceedings in her public statement. 
 "Not one of the LSC members tried to see it from the administration's side. I heard [the LSC's] conversation about what [Powers] did," said Hand. Not one of you could concede the possibility that the LSC's conduct and actions have played a part in this situation."
Raquel Don, a Jones parent, Friends of Jones board member and Chicago Public Schools (CPS) Parent Board of Governors representative, called for more transparency and respectful collaboration from the LSC.
"I feel that transparency of the LSC would be greatly appreciated by all stakeholders of the Jones community," said Don. "It's best for students when the LSC listens to all parent and guardian voices. Even if there is a difference of opinion, there is a productive way to respectfully work through it, especially if the students' best interest is in your heart."
Creswell, however, holds a different perspective on what the LSC should prioritize.
"I think there's a very big issue in adult society in general, but also in the Jones community, that we highly value civility and kindness, and we hold those values higher than we hold civil rights, equity and what students need," Creswell said. "Those need to be addressed in a very urgent and frank way."
Students also gave statements at the Special Meeting, mainly concerning Dr. Powers and other administration members. Rachel Zien, an LSC community representative, personally emailed Black Student Union (BSU) President Railey Montgomery '22 to ask her to share her point of view on Dr. Powers at the Special Meeting.
"As parents at a school that is majority-white, you share a different experience with our principal, and that needs to be taken into account," said Motgomery. "Black students have real concerns that need to be met, and these concerns should not only be heard when it is beneficial to the LSC or any other group."
Though Creswell claimed at the Special Meeting that the LSC did not contact students 'as a body,' students, administration, and LSC members recalled a different version of events. 
"While it's great that [the LSC] did reach out to members of the Black Coalition (BCO), it puts us in a difficult position because we are forced to speak not only for Black students, but also for other students of color who could have been better represented by club leaders from their specific affinity groups," said Ariel McGee '23, President of the Junior Council Student Government Association and BSU Board Member. 
In a statement given on behalf of the Black Coalition, one student also criticized administration's and LSC's communication with students prior to the Special Meeting. 
"Unfortunately, both the LSC and the administration put us in a very unfavorable position tonight. We [BCO members], separate from other cultural clubs and student leadership [groups], were asked to speak specifically about the principal," said Ehrevkah Martin '22, a board member of Black Leaders and Mentors (BLM) and BSU who also contributed to the Black Coalition's statement.
In response to Martin's remarks, Zein apologized and denied that they intended to ask students of a particular affinity group to speak for a specific purpose. 
"I did say in my email that I expected parents to participate and that I wanted students to participate as well," said Zein. "I reached out to Railey, but definitely not with the intention to call for a specific affinity group."
Many Jones parents' expressed in their public statements that they believe the LSC's tactics are unproductively adversarial and negatively affect student life. 
"I have developed the opinion that some members of the LSC appear antagonistic towards our principal," said Rebecca B, a Jones parent. "What seems to be happening is very unproductive, a waste of time, and the reason why I'm speaking up is because this is time that our kids need. Our children need their teachers and their administrators, especially now. The approach I'm seeing from some LSC members, not all, is bad for morale, so it's bad for students."
Leave a Comment
About the Writer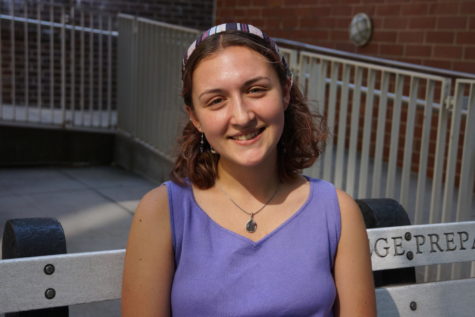 Whitney Shurtliff '22, Associate Editor, Print
Whitney is excited to continue at the Blueprint as Associate Editor of Print during their senior year at Jones. She also participates in National English...