Chicago teen bands make a comeback
Four Jones bands share their experiences in Chicago's music scene
Up-and-coming teen bands at Jones have been navigating their way through Chicago's music scene, sharing similar and contrasting perspectives in the aftermath of the pandemic. As Chicago returns to a degree of normalcy, young musicians are bouncing back, returning to in-person shows. 
Neptune's Core
Neptune's Core is a small indie rock band composed of two sets of sisters: Kaitlin Cywinski '24, Sofia Richter '24, Jackie Cywinski, and Hannah Richter- both of whom are students at Alexander Graham Bell elementary school. 
"Around fifth grade, we were all just kind of starting to play music and we thought it'd be great to come together as a bunch of friends who just wanted to play music together," said Kaitlin Cywinski. "Then around eighth grade, we started to get a lot more serious about it and had thoughts about pursuing it and releasing music and playing gigs."
When COVID-19 hit, small bands like Neptune's Core were met with obstacles in expanding their audience and creating new songs. 
"I feel like a misconception of pandemics affecting musicians is that you have so much time to songwrite and write about stuff that's happening," said Sofia Richter. "Well, for me, that didn't work…. I had time, but I didn't have the content."
As COVID-19 became a growing issue, live shows came to a halt, and the city's venues were forced to close to prevent spreading COVID-19. For Neptune's Core, the pandemic was harmful to their ability to reach listeners and gain exposure.
"We weren't able to play any gigs, and shows are the best way that we promote ourselves as a band and get recognized and put ourselves out there," said Sofia Richter. "Spotify is a great way to get your stuff out there since people can find it online…but gigs are the best. It's really fun to connect with the audience and build [a] connection."
With venues opening up and live shows starting to appear again, bands have been able to expand their audience. 
"Everyone is a lot more excited to be at shows, so you get a lot more audience interaction. It's an amazing feeling when you're performing what you've written," said Kaitlin Cywinski. "The venue owners are so happy to see people, we're happy to be playing, and people are happy to be there. It just creates an overall super enjoyable environment."
Post Office Winter
Post Office Winter, a new band in Chicago's music scene, played their first show on Oct. 30th at Martyrs, a local venue, in a lineup filled with three other bands from Jones. 
Sadie Huffman '23 and Charlie Johnston '23 met at Jones and through mutual friends and soon after became close themselves. 
"Because we were so close and during COVID-19 we were so bored, we were like 'Do you want to hang out [and play music]?' And we did," said Huffman. "We always played music together for fun. Then, one day, we started writing stuff, and it was so good, so we told ourselves that we had to complete it and it got serious." 
Post Office Winter officially formed in October of 2020 during the pandemic, a little over a year ago. Though the pandemic brought uncertainty to the world, it allowed for this young band to form under unique circumstances.
"We formed during COVID-19, and it was kind of a blessing for us," said Johnston. "We wouldn't be a band without COVID-19 because there would be no reason for anyone to have so much free time. We had to be outside in the garage, though, which kind of sucked [because it was so cold]… But overall it really contributed to the vibe and sound."
What started out as a way to pass time became much more for Post Office Winter. During a cold and confusing time, these two young musicians brought warmth to their music-producing garage, and from there, their debut album Songs for a Scientist was born.
"We weren't even thinking about it that seriously, but we turned out to have enough songs to make an album and now it's a full-on project," said Huffman.
Oct. 30, 2021, was the first time Post Office Winter performed in front of a public audience. Even though restrictions have been lifted and more measures have been taken since 2020, the band will still utilize virtual opportunities to spread their music in addition to future shows.
"Two [events] we have planned are going to be virtual. One of them's on the radio, another is going to be a virtual show," said Johnston. "So it's still not fully COVID-19-free. You can connect with musicians and people that are not in Chicago, which I think is a cool thing that's come out of virtual shows."
However, live shows are a way for bands to reach their audience more personally especially among this community of musicians here in Chicago and even at Jones.
"On Oct. 30 we played with three other Jones bands, which was kind of awesome," said Johnston. "There's a lot of Jones kids forming bands that are making really good music, and it's very cool to be a part of. Especially now that we have opportunities to play live again [after] almost a year, which has really increased the excitement around this."
Lifeguard 
Lifeguard is composed of Asher Case '24, Isaac Lowenstein '25, and Kai Slater '23. Case and Lowenstein met through the Chicago-local music program School of Rock. After some time, Case and Lowenstein went on to meet Slater, and they quickly connected and formed Lifeguard. Being inspired by a variety of artists, Lifeguard's sound is unique and distinctive, taking on a 90s post-hardcore sound heard in their album Dive, which was released in October of 2020 on cassette. 
"Putting out cassettes and vinyls really supports us," said Lowenstein. "You can also feel good about listening to music. I feel like my problem with a lot of streaming services like Spotify is that they give no money to artists, like next to none."
Although streaming services allow bands to reach new listeners, playing live shows is essential for small artists to garner attention and personally connect with their audience. 
"It's hard for bands to actually make people hear them, and, in some ways, it seems like it'd be easier because it's like 'Oh, we can just put your stuff on Spotify and people can hear it,'" said Case. "But if you want people to actually hear it, you need to actually engage with them and bring them into the scene [through live shows]."
The close community of Jones bands has allowed the bands to promote one another. The media attention Horsegirl, another local Chicago band at Jones, has recently gained has helped bring awareness to Chicago's growing music scene.
"I feel we have so much closeness within this scene because we are all in it…we are raising everyone up at the same time," said Lowenstein. "The [recognition of] Horsegirl is cool because it's drawing real attention to the scene. If people start seeing that a lot of people are doing this and all of these projects are starting to pop up, then they will realize that this is something big and interesting."
Horsegirl 
Matador Records, a label known for signing popular noisy rock artists like Yo La Tengo, Belle and Sebastian, Gang of Four, and Sonic Youth, has now also signed local Chicago Jones band Horsegirl. When representatives came over to the house of guitarist and vocalist Penelope Lowenstein '22, the band knew their basement jam sessions were going to turn into much more than what they expected.
"It was an unorthodox process getting signed; we got signed virtually, which no one has ever really done before," said Penelope Lowenstein. "Then they [record label representatives] came over during the summer and met with our families in my backyard, and it was weird because it was the first time they met us in person. It was just so strange…. They had heard the records in the form of demos, and they were interested and wanted to put it out."
Lowenstein and the rest of Horsegirl- Nora Cheng and Gigi Reece who are now in college met in 2017 at a warehouse show, where they instantly connected. They started playing in 2019 under different versions of Horsegirl, originally playing as a Sonic Youth cover band. During the pandemic, when Reece and Cheng were still in high school, remote learning allowed for the bandmates to work on releasing their two singles, Ballroom Dance Scene and Sea Life Sandwich Boy, as well as create demos. 
"We were together 24/7; they basically lived in my basement," said Penelope Lowenstein. "We were able to just spend a lot of time writing and we recorded a bunch of demos during the school week. I just had a lot of time, and there wasn't anything to do. And so, with those demos, we were able to send it [our music] around."
Similar to other small bands at Jones, quarantine provided Horsegirl the time necessary to work on future projects and even had an article written about them in The Chicago Tribune. 
"Exciting stuff happened for us last year that I feel was partially because we had so much time to invest in our music because of COVID-19," said Penelope Lowenstein.
Although COVID-19 brought more free time for artists to dedicate to their music, the restriction on playing shows was devastating to the members of Horsegirl.
"It was very heartbreaking for a lot of us because, of course, Horsegirl was like our high school band, and we wanted to be able to get out and play," said Penelope Lowenstein. 
Young high school bands like Horsegirl rising in Chicago are bringing a new form of youth culture to the city. Remnants of past music scenes continue to be passed on through generations of music-driven kids. 
"I feel like I've seen the generations of Jones bands and the Chicago community and what the youth scene is doing," said Penelope Lowenstein. "Some of my favorite music that's being made right now is being made by my friends, by kids, and it's very exciting, authentic stuff, which is not something that most people, especially in high school, can say."
The recent rise in teenage bands creating music is more than a pastime – it's incorporating the past with new elements to create a music scene in Chicago, and it's here to stay.
"There's a lot of pride that's starting to build in Chicago," said Penelope? Lowenstein. "Like something's happening. Maybe it's just wishful thinking, but we're seeing that this is real. If you say it enough, it becomes reality. Who knows how big this all really is – maybe we'll look back and [think], that was nothing, but it is exciting to be a part of now." 
Leave a Comment
About the Contributors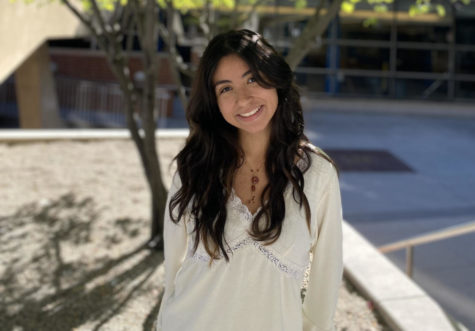 Samantha Gamero '24, Lifestyles Editor
Samantha is a junior and is the Lifestyles Editor. She is excited to be back for her second year at the Blueprint. Samantha loves music and you can always...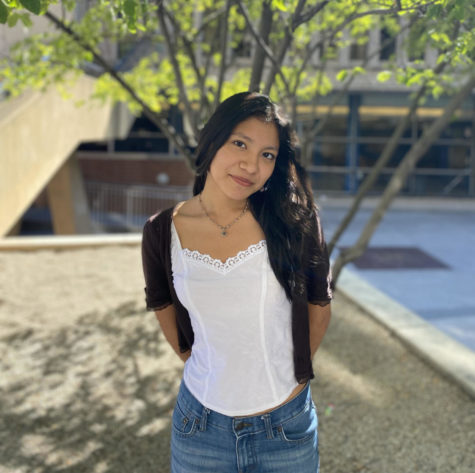 Leilani Freire '24, Lead Reporter
Leilani is a junior and on the school staff. She is always looking for film recommendations and enjoys listening to Sonic Youth, The Breeders, Hole, and...