Boys soccer season in review
After fun run, season comes to a close
After a 2-0 loss to Lyons Township in the IHSA regional tournament, the boys varsity soccer season ended with a final record of 11-5-2.
It had been a successful year for the team, as they allowed no goals over their first seven games. They won games against the reputable programs of St. Ignatius and Juarez twice and had draws to both Niles West and Chicago Washington.
Talent has been accredited as one of the major factors to the success of the season.
"Overall, I thought the season was a success," said head coach of the team Paul Zubb. "The group was probably the most talented [we've had]. We had Jonathan Lang get all-state [honors] and Jake Underwood get all-sectional honors for their play and they deserve that 100 percent."
Jake Underwood '22, the team captain, thought the culture was great for the team.
"The whole team culture, just all the guys getting along, there's nothing I would change about that," said Underwood. "Sometimes you wish [games] could have gone differently, but there's no memories or anything like that, that I would change."
There were a few defining moments in the season, starting with the early injuries that struck some of the team's best players.
"We suffered two really devastating injuries right off the bat with Josh Gold and Lucas Parra injured," said Zubb. "And then we had Ben Cole go down. I think that was not necessarily a turning point, but just the realization that everyone else had to step up."
Back-to-back wins in the beginning half of September also helped boost confidence in the team according to Underwood.
"It was after our win against Ignatius on that Saturday [Sept. 11], then that Monday [Sept. 13] against Juarez and we won both games," said Underwood. "We won the first one 2-0 and the second one 1-0. And it was at that point that we really thought that we had a shot at [the city championship] or just a really good season overall."
Almir Hajdarevic '24, the team's starting goalie, named a loss to Payton the turning point for the team.
"I feel like our turning point was against Payton, and that's not necessarily for the better. It was a turning point in terms of a slap in the face. Payton, they messed us up pretty bad. We lost 5-0 and it was a really disappointing game for the team," said Hajdarevic. "That was almost like a wake up call because it showed that we've been playing these games, lost one or two and tied a couple, but in order to be good in this league and with this competition in a city with such high quality players we need to play at our best, we need to play at our finest."
The quality of defense the team played was exceptional this season, as expressed through talent.
"With Jonathan playing three years and starting for three years and Jake Underwood, another center back defenseman, also a three year varsity player, those two guys right there being in control of the backline, they were exceptional," said Zubb. "It's a team game, but when you have players that will play for three years on a varsity level, it's a luxury to have." 
Underwood stated the style of the team drawn out by the coaches was key for defensive success.
"We had a style, it was just very defensively solid, our formation, and our style of play was really fit for clean sheets and grinding out results,"said Underwood."But a lot of that is also due to coaching."
There were many shoutouts given, starting with Zubb acknowledging the seniors.
"All the seniors, I'm grateful for everything they've done for however many years they've played, whether they were on JV level or varsity level," said Zubb. "Once again, it's a team game, so just a shout out to every single senior and all the hard work they put forth to the program and put it in a spot where it's very, very noticeable that Jones is a team that's coming and they're going to keep coming after you. And it's a huge sacrifice. Playing a high school sport is a huge sacrifice, especially when you don't have a field that's right outside the building."
Underwood reflected on the season and had no regrets.
"I never like to end the season with any regrets," said Underwood. "Obviously, I wish some results could have gone differently, there's things I would've changed, but I think everything happens for a reason. You can't be upset when you fail, because it's one step closer to success."
Hajdarevic rounded out the statements of praise by saying how much he loved the team.
"I'm just so happy that I was able to play with this team. Obviously, the way we went out wasn't the best way to go," said Hajdarevic. "But in terms of any regrets, none at all. I would say I was proud to play with this team and I'll never forget playing with them."
Leave a Comment
About the Contributor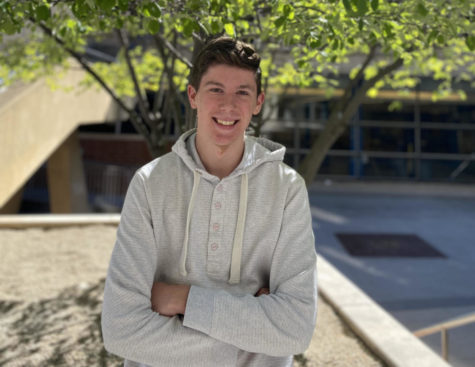 Noah Barbas '24, Online Editor
Noah is a junior and is the online editor for the Blueprint website. A second year journalism student, he enjoys making sure things look good. He plays...