CPS cancels school, encourages students to get vaccine
District abruptly makes Nov. 12 Vaccination Awareness Day
In an effort to encourage students to get the COVID-19 vaccine, Chicago Public Schools (CPS) cancelled classes on Nov. 12, naming the day Vaccine Awareness Day.
The decision to cancel school, which was announced a week prior to the vaccination day, came after the Federal Drug Administration (FDA) authorized kids aged five to eleven to get the COVID-19 vaccine. With new FDA authorization, almost all CPS students are now eligible to receive the vaccine, as students aged 12 and over have had the opportunity to get vaccinated since May of 2021. 
The decision to cancel school was made by CPS CEO Jose Martinez in accordance with principals of Chicago schools. Jones Principal Paul Joseph Powers advocated for this decision. 
"Early last week, Dr. Martinez contacted all the principals and we had a meeting. He indicated that he had been considering this and that the district had been making some general plans," Powers said. "I think with the new FDA approval for the vaccines for ages five through 11, this will provide that opportunity for people to get vaccinated. And for 12 and up students who wish to be vaccinated, this provides an additional opportunity during the weekday to do so."
Jones has made many efforts to encourage students to get vaccinated and Vaccine Awareness Day only furthers that effort. 
"We put the posters up around the school. We'll mention vaccination in announcements and say this is something that you may wish to consider. We also include it in all mailings that go out as well," Powers said. 
It's possible that Vaccine Awareness Day is the first step in scrapping some COVID-19 mitigation strategies and resuming some normalcy. 
"I'd like to say that I think some of these restrictions will be behind us in a few months. However, that depends on how things develop locally, statewide, and nationally. " Powers said. "But I thought that a long time ago. I think everybody did.  Originally there was the two weeks of the 15 days to slow the spread and it turned into a much longer time." 
Jones students have had the opportunity to get vaccinated for months and there are doubts that Vaccine Awareness Day is going to persuade unvaccinated students to get the jab. 
"As far as students 12 and up, I think most people who are going to get vaccinated have gotten vaccinated. Those who choose not have chosen not to, by and large, probably will not," Powers said.
However the Chicago Teachers Union (CTU), who this past spring threatened to go on strike in protest of a lack of COVID-19 safety measures, is supportive of Vaccine Awareness Day.
"I know people have a desire to get back to what school looked like before the pandemic when things were more predictable. Sometimes you have to adjust on the fly," Anthony Cappetta, a math teacher and one of Jones's CTU representatives said. "In the long term, if this Friday is the start to a fully laid out plan to get all elementary school students vaccinated, then [me] shifting a half a day of lessons is not that big of a thing."
Ultimately, Vaccine Awareness Day is for elementary school students to get vaccinated, as high schoolers have had the opportunity to get vaccinated for months. However, students and teachers are excited about having an unexpected 4-day weekend. 
"I am so excited to have time to catch up on homework, relax, and spend time with friends," said Maddie Huang '23. "I am glad CPS is taking initiative to encourage people to get vaccinated, which hopefully will result in higher vaccination rates and lower COVID-19 cases."
Cappetta, along with CTU, believes that more can be done to bring schools back to pre-pandemic normalcy. 
"CPS did a poor job of informing parents and not giving them enough time [to plan for Vaccine Awareness Day]. This is exactly why we [CTU] think school-based clinics are a better option." Cappetta said. 
Students are supportive of Vaccine Awareness Day as they believe it will encourage more people to get vaccinated.  
"I think it [Vaccine Awareness Day] definitely creates a negative stigma around not getting vaccinated and it makes people more aware that getting vaccinated is important and keeps other people safe," says Morgan Scott '23. 
Huang also emphasized the importance of getting vaccinated. 
"It's super important to get vaccinated to protect yourself and others so take this opportunity to get vaccinated!" said Huang. 
Leave a Comment
About the Contributor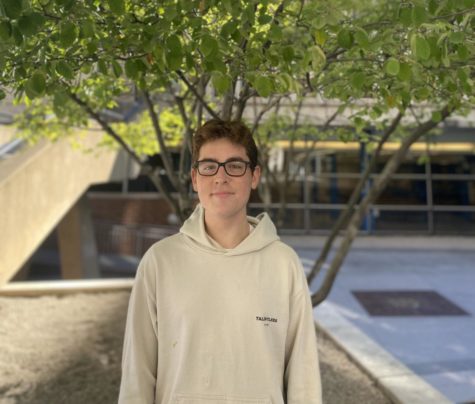 Gabi Josefson '23, Editor-in-Chief
Gabi is a senior who is exuberant to serve as the Blueprint's Co-Editor-in-Chief. It's his 3rd year on the Blueprint and he is thrilled to be part of this...