Programming privacy
New student data protection law upends computer science curriculum
The Computer Science department was forced to alter much of it's curriculum after the implementation of a new student privacy law over the summer, leading them to a rocky start for the 2021-22 school year.
The Student Online Personal Protection Act (SOPPA), took effect on July 1, 2021. SOPPA outlines new requirements for how educational websites and software can use student data. 
"SOPPA is intended to ensure that student data will be protected when it is collected by educational technology companies," said the CPS Policy Manual. "The data may be used for beneficial purposes such as providing learning and innovative educational technologies."
This policy means that many educational tools Jones teachers have used in the past are no longer available, including but not limited to Code.org, a software used frequently in computer science classes.
"[Code.org] basically gave us free, high quality software, which we primarily used for AP Computer Science Principles," said Computer Science teacher Cynthia Lilagan. "Not being able to use it affected a lot of paths."
This policy change has led to a lot of extra work for computer science teachers as they try to create a new curriculum even though classes for the school year have already begun.
"The computer science teachers are doing everything they can to come up with alternative curriculum during a difficult time," said Lilagan. "I would say it adds an extra hour of work a day."
Some AP Computer Science students  agree that the curriculum changes have affected their experience with the class.
"It's a bit more of an introductory class than I thought it would be," said Sophie Saines '23. "I usually do all my coding in JavaScript, but the software we're using puts you in block coding." 
Other students feel as if their academic experience hasn't been affected by the new privacy law.
"Relative to my other experiences with computer science classes it's been better because the teacher really knows what he's doing," said Safi Alnaqib '23.
Although some students do not believe they are being affected by the new curriculum changes, teachers remain frustrated by the situation. It is especially disappointing considering that other school districts in Illinois have been able to work out a new agreement with vendors like Code.org. CPS teachers received an email from Code.org explaining the situation.
"We've already signed student data protection agreements with over 150 districts across the state to comply with the new law," said the Code.org representative. "The bad news is CPS's agreement and application process contains onerous requirements unrelated to student privacy that make it prohibitive for organizations like Code.org to agree to CPS's requirements as written."
Some students feel like the new privacy laws are not worth the academic cost, especially since their personal information has already been shared with social media apps and other groups.
"It's not like we leave school and suddenly our information is not being shared," says Alnaqib. "We do it all day long." 
Though they acknowledge the importance of protecting students' privacy, computer science teachers wonder if a solution could have been worked out between CPS and Code.org.
"I still feel like there's a way to come up with a compromise between CPS and Code.org that'll work for both groups," says Lilagan. "At least in the end we'll get what many teachers consider a high quality computer science curriculum."
Despite the current difficulties, teachers are still hopeful that the negotiations between CPS and vendors will reach a resolution in the near future.
"Student privacy is very important, but the fact that every other district was able to pass it makes me wonder if they're compliant or not," says Lilagan. "And if they are SOPPA compliant, then what's the holdup?"
View Comments(1)
About the Writer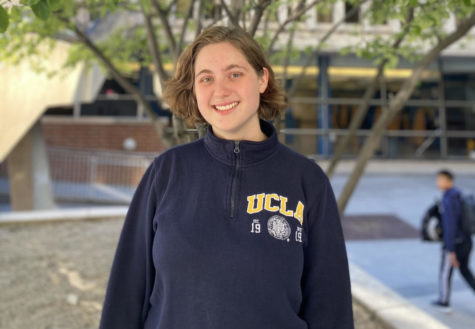 Karen Buecking '23, Lead Reporter
Karen is a senior and is Lead Reporter for the online section. She is in her second year on the Blueprint and is excited to provide local news and analysis...