NEHS writing center reopens 
In-person writing center opens after returning from e-learning
On Thursday, Oct. 6, the Jones National English Honors Society (NEHS) writing center reopened for in-person sessions for the first time since school closed due to COVID-19. 
NEHS, co-sponsored by English teachers Ann Dernbach and Caitlin Miller, created the student-led writing center during the 2019-2020 school year. The center was formed to assist students with writing assignments and offer feedback for improvement. NEHS has expanded from giving feedback on English assignments to include social studies classes and all writing-heavy subjects. 
"I think it's really great when students are proactive and seek out help on their own. I think it pays off in the end and it's a really adult thing to do," said Dernbach. "They're being active in their education."
Kathryn McGovern '22, a lead tutor for the center, views the writing center as a way to create a supportive environment for Jones students.
"Any student can come in and get help with their writing or talk about ideas and get feedback on work," said McGovern. "It's just a way to foster a good community and improve the writing skills of all Jones students."
Some students that have visited the writing center recall positive experiences. After receiving help from the writing center last year, Almir Hajdarevic '24 feels it helped him gain confidence in his work. 
 "I definitely did [see an improvement in my writing]. I also felt much more reassured about what I was turning in after I went to the writing center because just having a second pair of eyes from a more mature person in terms of writing was very helpful," said Hajdarevic. "Even if you feel like you don't need any help, you should still use it…I guarantee you that you will improve and you'll see better results."
Madigan Tang '24 also felt encouraged and supported with their writing. 
"I was having a lot of trouble writing. I can write reasoning but I needed to have a solid claim in order for the reasoning to make sense. The writing center helped me structure the paragraphs a lot better and made sure I wasn't going on a tangent," said Tang. "By the end of the year I could write a better claim…and my reasoning stopped going in circles."
Lizzie O'Brien '22, another lead tutor at the writing center, explained that, this year, the center is advertising to students looking for assistance with their writing, regardless of the class, after teachers reached out with concerns in their students' writing. 
"We're opening it up to social science students, we're opening it up to math students, and whoever needs help with anything writing-related is welcome to come," said O'Brien. "This year we're getting a lot of feedback from teachers telling us 'these kids need help with their writing'…so they reached out to us and asked if we'd be willing to take on other subject areas."
Dernbach feels that expanding the program allows NEHS to support more students and make the center a more well-rounded program.
"We want to be able to offer more help when we can and make this a successful experience and a successful program," said Dernbach.
Students can make appointments through the QR codes on writing center flyers posted around the school and in their English and Social Science Google Classrooms. Students can also walk into the center during regular AcLab periods in room 4034.
"Come visit us!" said Dernbach. "We want to help!"
Leave a Comment
About the Contributor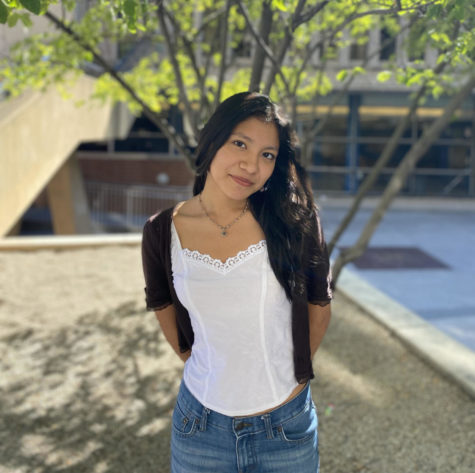 Leilani Freire '24, Lead Reporter
Leilani is a junior and on the school staff. She is always looking for film recommendations and enjoys listening to Sonic Youth, The Breeders, Hole, and...