I AM designs 
Mia Staszcuk '22 creates fashion business 
Senior Mia Staszcuk's clothing business, I AM, has gained lots of traction over the course of the pandemic. 
"I've been sewing for forever. My grandma taught me how to sew when I was really young," said Staszcuk. 
Due to the extended free time of quarantine, Staszcuk gained much more time to sew. Because she was making so many clothes, she decided to start selling them. 
"I was [sewing] so often, I reached the point where I had made everything for myself that I needed to make, and I was just making stuff and it was sitting there," said Staszcuk. "I thought I might as well sell it."
Staszcuk started her business on an app called Depop and then created an Instagram account to accompany her shop and aid in selling.
"It took me a while to get it started," said Staszcuk. "I started selling on Depop around April of last year, and I just started my Instagram and website about a month ago."
While Staszcuk has had friends and other Jones students buy her apparel, I Am designs is bigger than just a school side hustle. 
"It's been mostly non-Jones kids," said Staszcuk. "I've had lots of my friends ask me to make them something, and I've had a couple homecoming dresses, but most of it is people who find me on social media. Sometimes I'll have repeat customers, but most of the time it's new people I've never even met before."
Staszcuk's customers have been very happy with what they have received. Ava Viti '22 bought a corset top and was delighted with her purchase. 
"I thought it was adorable," said Viti. "It was not like anything I had ever seen before. It was very, very unique and very reasonably priced, and I was really impressed with the fact that she made it herself."
Not only did she like the fit and design of the top, she also admired the personal touch. 
"It was very personal," said Viti. "She included a little purse which I thought was adorable, and I felt like I was not only helping a friendly face that I had seen in classes to grow her business, but I also knew this was a sustainable option."
Ava Ochoa '22 has been a loyal customer of I Am designs. Ochoa is a dancer and goes to Staszcuk for costumes for competitions. Her most notable purchase was a Cinderella costume, and she was very fond of the results. 
"She puts time and effort into everything she does and that's why I appreciate her," said Ochoa. 
With Halloween coming up, Staszcuk has broadened her costume-designing from performance costumes to Halloween costumes. 
"October is definitely the busiest month. I have been stacked with costume orders anywhere from superheroes to recreating celebrity looks," said Staszcuk. 
Not only does I Am designs provide quality clothing, it also provides donations to the Malala Fund. 
"I did a report on [Malala] in middle school and did a lot of research on it," said Staszcuk. "It fits my mission as a young girl who is in school to donate to an organization started by another teenage girl who wants to make a change."
I Am designs is unique because of its customer-oriented owner who has a strong will to do good, and personal touch, leaving customers excited to return. 
"I would definitely buy something again," said Viti. "It really made a lasting impact, and it is something so simple but effective."
Leave a Comment
About the Writer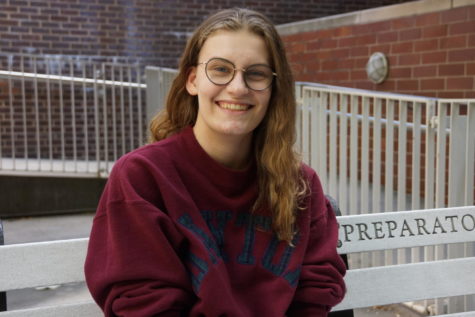 Carrigan Garrity '22, Managing Editor and Human Resources Co-Manager
Carrigan is the managing editor and co-human resources rep for the Jones Blueprint. She is involved in the Jones Swim team, as well as many different clubs...