Doing the right thing
Jones Cross Country coach remains dedicated to the team
Andrew Adelmann has had a stranger year than even he expected. In his 14th year as the Jones Cross Country coach, he's dealt with many changes on and off the course.
"It's been challenging," said Adelmann. "It's probably been the toughest year in terms of just balancing everything from a professional, personal standpoint." 
The past 12 months have been filled with lots of excitement and big adjustments for Adelmann.
 "I had a baby in June, actually right before the track season ended and then my wife and I moved to the suburbs," said Adelmann. "Right before the start of the school year, actually on the day that official practice started, I was called out of the blue and offered a job in Downers Grove North High School."
Adelmann accepted the job and embraced the change. As soon as the school day ends at DGN (Downers Grove North), he is in his car and is off to Jones for the 23 mile ride.
"I think it's certainly an example of doing the right thing," said Adelmann.  "It could have been very easy, and certainly the temptation was there to just kind of say, 'I mean things happen and I can't coach this year.'" 
Adelmann has been a huge influence on Ethan Sterling '22. Sterling is a three year cross country runner, and this year is one of the captains on the team.
"He's a great guy, he's definitely changed my life, I mean he's had a huge impact on me, just making me a better person," said Sterling.
Sterling has learned many values from the coach, and looks to share them with the next generation of Eagle runners.
"I think the main thing we focus on is putting others before ourselves and doing things for other people," said Sterling. "That's one of the biggest lessons I've got out of him and I definitely want to pass that message on." 
That message matches perfectly with what Adelmann believes. Even though the extended commute may make his life harder, he still has a team of kids that he has to coach.
"I think there's too many people doing the easy thing in today's society and so it was a no brainer," said Adelmann. "I made a commitment to this team."
 Adelmann also made a commitment to his son.  He wants to instill the values of dedication and responsibility to his son at a young age and quitting does not reflect those ideas. 
"I wouldn't want him one day to hear the story, and have to hear that I abandoned 45 people who are counting on me," said Adelmann. "And so I think it was when I looked at it that way one kind of sacrifice made the other one a little bit more palatable." 
Adelmann's sacrifice has not gone unnoticed by the runners. They understand that their coach is extremely busy, but he is still there for them.
"It's definitely nice to see he's sticking through with us this year," said Sterling. "We're one of his priorities and it's nice to see that."
Practice helps prepare the Cross Country team for their upcoming meets, but there was nothing to get Adelmann ready for fatherhood.
"I do know that nothing necessarily prepared me for these first few months, and that's kind of the excitement," Adelmann said.
Luckily coaching has given Adelmann a head start on the later years of fatherhood. He has 14 years of experience with teenagers.
"I think when he reaches the middle school or high school age, I hope at least that I will be a little bit more prepared to handle things that come my way," said Adelmann.
Through the highs and lows of this season, Adelmann has embraced everything. He takes the next challenge in stride and will keep on running; for his family, for his team and for himself.
  "A lot of changes in a short amount of time and a lot of priorities, shifting. And so it's been, it's been a big learning experience for me and it's been good," said Adelmann. "Sometimes we are uncomfortable to depict growth opportunities so I think that's what I've looked at these last few months."
Leave a Comment
About the Writer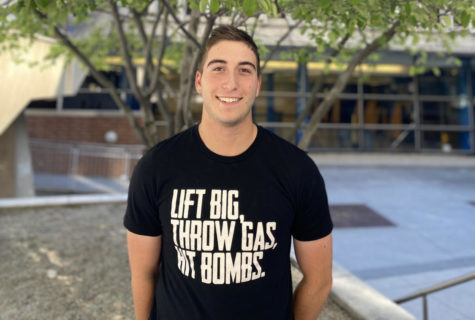 Dean Goldman '23, Lead Reporter/Humorist
Dean is a senior and second year journalist at JCP. After a year on the sports staff, Dean is the copy editor this year and has big plans with the broadcast...