State of mind
Varsity soccer prepares while state playoffs loom
The varsity boys' soccer team, at a 10-4-2 overall record, looks ahead to the matchup against Juarez in the regional semifinals of the state playoffs.
The 3A sectional game will be played on Oct. 19 at 7 p.m. at Lyons Township, and the Eagles look to play up to expectations.
"Unfortunately we are out of [the city playoffs] but we are looking to bounce back on Tuesday," said team captain Jake Underwood '22. "We've already played [Juarez], we beat them 1-0 a couple weeks ago."
Almir Hajdarevic '24 said their Tuesday competition is shaping up to be tough.
"From what I remember, [Juarez] is a very good team," said Hajdarevic. "In terms of their key threats, they can ball really well and they threatened the goal a lot, they had plenty of shots [last game]."
Juarez will also be a team that will be ready for them, according to head coach Paul Zubb.
"They're going to be ready to go.We beat them earlier in the year, but they never stopped, they never gave up," said Zubb. "We beat them earlier in the year. We scored a very good goal against them, but the second time around is always challenging when you play a team earlier in the year and you beat them."
The team found a lot of good takeaways from their Friday practice, like small side practice and attitude.
"[Friday] we did a lot of small-sided scrimmages," said Underwood. "Help us build out of the back, keeping possession and just transitioning. That's something we really struggled with this season is transitioning from our backline to our attack, and we did a lot of that today."
Zubb stated he liked the positive attitude of the team during practice.
"I like the positivity and just the free flow of how they're playing," said Zubb. "It was good, and the freedom of what they're doing on the field. Because when you get to the game, sometimes you've got to make something out of nothing, and that's what I love about what they're doing."
The team is introducing a new formation, something to adjust to and improve on, according to Underwood and Zubb.
"We're playing with a new formation on Tuesday, and we plan on working on that," said Underwood. "We used to play the season with one striker and one forward player, and now we have two, so we're going to work on one of them getting in behind and one of them dropping."
Zubb said the new formation is to focus more attention on an aggressive offense.
"We are going to switch things up a little bit, play a little more attack minded, and I think they're going to be ready to go," said Zubb.
Confidence and practice are the biggest things to work on, according to Hajdarevic.
"As the keeper, just continue working on my shot stopping and on my confidence coming out for the crosses," said Hajdarevic. "We want to see, when we're on the field, to not give up if we go down by one goal. We want to be able to bounce back. We haven't been able to do that in a couple of games, and in other games we have."
For Coach Zubb, he hopes his team doesn't give up as well.
"There's always room to improve. I just want them to never give up because that's the way I always played," said Zubb. "I always believe you never give up, you keep on going and going and going, and that's the way you got to keep it."
The No. 6 seed in the tournament, the Eagles look to go to the sectional finals for only the second time ever.
As put by Underwood, "Go Eagles."
Leave a Comment
About the Contributor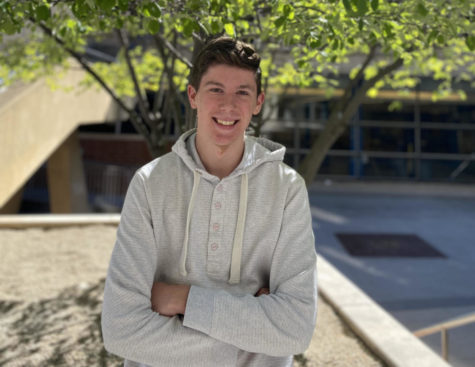 Noah Barbas '24, Online Editor
Noah is a junior and is the online editor for the Blueprint website. A second year journalism student, he enjoys making sure things look good. He plays...