Varsity soccer defeats Hancock 4-0
Jones defeats Hancock in playoff game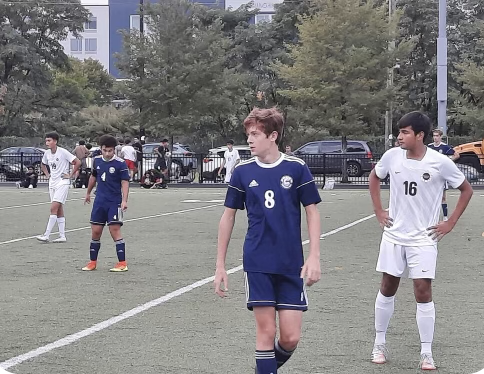 The Jones boys soccer team beat the Hancock Eagles 4-0 in a home group stage playoff match on Thursday, following a 4-2 road playoff victory at Curie.
After a rocky scoreless first half and some frustration in the beginning, Jones roared back with four unanswered goals to pull away in the second half.
"I think we started kind of slow in the first half," said Jonathan Lang '22. "We couldn't get any chances and we were really struggling offensively."
Head coach Paul Zubb said he needed to get his team ready for the game.
"I have to get them ready before the game," said Zubb. "It was like they were sleeping. I have to do a better job of getting them ready to start the game."
According to team captain Jake Underwood '22, Jones wasn't creative enough on offense in the first half.
"[The team] just wasn't creative enough," said Underwood. "We weren't getting that ball over the top or in between their backline."
A few minutes following halftime, Jones went on the board first with a Jack Dement '22 goal and didn't stop from there.
"[In the second half] we played a bit more direct, tried to attack them and put them on their heels," said Underwood.
Lang said intensity picked up, a key factor in the second half surge.
"I think we really just picked up our intensity and were able to find our strikers a lot better in the second half," said Lang.
Non-starters got a chance to play, giving Jones the boost they needed, according to Zubb.
"The play of guys that have put in a lot of hard work over the season, and them getting a chance to get in there, that was the clear difference," said Zubb. "Guys that haven't gotten the chance consistently, but have been working really hard. Those guys got a chance and they pushed us through."
Dement's goal was said to be the defining moment of the game.
"I honestly think it was that first goal because it was 4-0, so [Hancock] didn't score, so Dement with the goal and just being in the right place at the right time," said Zubb. "That was really, really good and he deserved that goal."
When the first goal was scored, the game was broken wide open.
"Once that one went in, we just kept coming," said Lang.
Motivation and excitement was high for the playoff game, especially for those non-starters.
"I think we had a lot of motivation coming in because we really wanted to win this game," said Lang.
Jones plays Whitney Young next in the quarterfinal round of the city playoffs at home.
"Saturday, either we're hosting or playing at Whitney Young," said Zubb. "And it'll be a really, really good game."
Leave a Comment
About the Contributor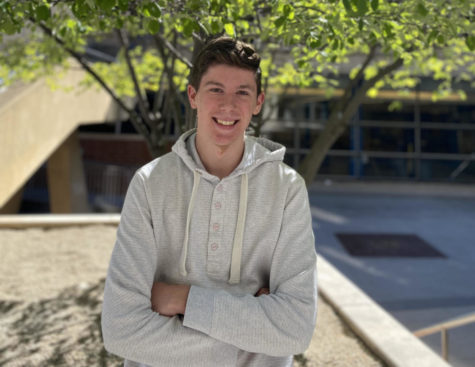 Noah Barbas '24, Online Editor
Noah is a junior and is the online editor for the Blueprint website. A second year journalism student, he enjoys making sure things look good. He plays...