"We're as talented as we have been"
Jones-Payton boys golf team wins CPS City Championship
 The 2021 Jones-Payton boys golf team won the CPS City Championship at Indian Boundary Golf Course on Sunday, Sept. 26. 
Despite the win, head coach David Gilmer said the team underperformed.
"We've played at Indian Boundary a bunch," Gilmer said. "Earlier this year we were 20 over par as a team. The goal was about 20 over as a team, but yesterday we were 28 over par as a team."
The subpar showing was in part because of challenging course conditions, yet the team still prevailed.
"The course was really bitter," said team co-captain Charlie Kulwin '22. "When I say bitter, there's nothing receptive [in the ground]. The wind played a big role at a sustained 15 miles per hour, which would blow a loose hat off your head."
These conditions made for a difficult front nine, as Gilmer and team co-captain Bennett Patterson put it.
"We played the seventh hole collectively eight over par, which I would have expected to be at one over par on that hole," stated Gilmer. "You can just see the scores tightening between us and Lincoln Park."
The Jones-Payton team played at Indian Boundary multiple times in the past and had never seen worse conditions than on Sunday.
"The wind definitely had a big impact on the front nine for sure," Patterson said. "Having played on the same course numerous times, there's rarely any wind, so it was quite hard to adjust to conditions we'd never really faced before."
Kulwin was blunt about how the course was set for the day, as he stated it was difficult to read the greens.
"Some of the pin placements were super dumb," said Kulwin. "Some were put on slopes and so that's generally not easy, especially when you're above the hole putting downhill."
This wind changed the way players had to think about what shot they wanted to hit, causing obstacles for the players.
"On many of the holes, we had to take different aiming points off the tee," Patterson stated. "We had to club up sometimes two or three clubs from normal just to get the ball close to the green."
The wind didn't stop the team from shooting a collective 316, 18 shots ahead of second place Lincoln Park. 
"They worked their [rear-ends] off," said Kulwin, regarding his teammates. "Shout out to all the boys who put in the work. I am really proud of them."
Kulwin shot a tournament-low one-under par 71, seven strokes in front of the next lowest score. 
"I birdied the ninth hole, and the other closest player bogeyed," Kulwin stated. "I knew then I could put a chokehold on first place [individually]."
Gilmer showed authentic admiration for the team, regardless of the so-called underperformance.
"This is the third city championship that I've been a part of," Gilmer said. "We're as talented as we have been."
Kulwin recalled the moment where he realized they had a big lead late in the day, which eased the pressure of the tournament.
"I remember Gilmer came with me on 17 or 18 and let me know that we were up by 16," Kulwin stated. "We finished strong as a team."
But, the team still has its weaknesses, according to Patterson. This significant win comes just three days before IHSA (Illinois High School Association) Regionals, followed by IHSA sectionals if the team qualifies.
"We have the ability to win the state title, but what really holds us back is our ability to forget about the bad shots," stated Patterson. "If we can do that our ceiling is through the roof."
Despite the weakness of not having a short memory, Gilmer emphasizes the team's readiness for IHSA tournaments.
"I'm excited," said Gilmer. "We are as prepared as we can be for the IHSA state run. Now, it's just up to them, playing relaxed, playing well, and just having a good day."
Kulwin also mentioned the team needs improvement but recognized the mistakes made don't lessen the accomplishment of winning the CPS City Championship. 
"We can look at ourselves and say 'hey, we can improve here," Kulwin stated. "But it's important to celebrate the win because we won by 18 shots, it's not every day that you win by 18. It doesn't just happen by chance."
Considering the conditions, Patterson said that the result is a triumph.
"[Sunday] was highlighted especially by optimism throughout the course of the round," stated Patterson. "That allowed us to finish strong and win the tournament."
The upcoming IHSA events are single elimination tournaments, and they're even more important than Sunday as they will eventually determine the state champions. 
"The thing about any sort of single elimination kind of day is that you either have it or you don't, and golf is not a game where you can hide your bad days," Gilmer said. "We need to have a smart strategy when we go out there and then execute it."
Sunday's experience helped the team learn about what they can do better in a single elimination style tournament, which will benefit them during IHSA tournaments, according to Kulwin.
"I know we made a ton of mistakes out there, including myself, and it was scrappy at times," said Kulwin. "But, there's plenty to take away and learn from it as we prepare for IHSA regionals."
From Patterson's perspective, even though golf is an individual sport, having teammates to support one another is valuable for the group now and moving forward into IHSA tournaments. 
"Every time we play, I know myself and the other boys give 110% effort for the team," Patterson said. "We understand how badly all of us want to see each other succeed."
Leave a Comment
About the Contributor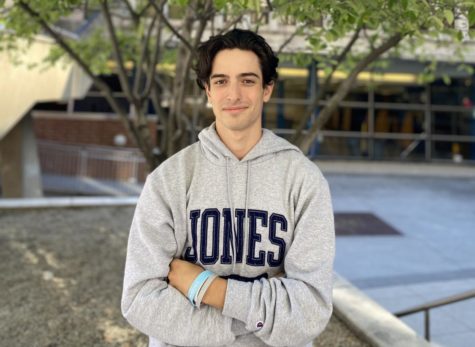 Jason Bernstein '23, Sports Editor
Jason is a senior and is the Sports Editor for The Blueprint this year. This is his second year doing journalism, and he is ready to keep the school updated...