Jones students left frustrated after first COVID-19 case emerged
Jones students expressed frustration after quarantine
*Interview names are anonymous to ensure the identity and safety
After a student at Jones tested positive for COVID-19 many students are left frustrated by the lack of communication on CPS (Chicago Public Schools) health procedures..
On Sept.14, the Jones student body received an email notifying them about a COVID-19 case at Jones. Some students received an email, as a result of contact tracing, informing them that they were in close contact with the student who got COVID-19. CPS policy states that you do not need to quarantine if you are fully vaccinated. 
Jane Doe, the student who tested positive for COVID-19, had to go through the contact tracing process.
"It was just really stressful and really disorganized," she said, "Some of the people who got contact traced, or were supposed to, didn't get an email."
Jessie Vautier '23 was in close contact with the student who tested positive, but said she never got an email notifying her that she was exposed. 
"I had multiple teachers mention to me that I was on the quarantine list, but I never got an official email from the school or any administration," Vautier said. "My AcLab teacher told me to go to the office after school, so I did. One of the people working in the front told me that I was no longer on the quarantine list and I had been cleared." 
After confirming that it would be acceptable for her to return to school the next day with the office staff, Vautier came back to school the following day and found that she was on the quarantine list again. 
"I was sent home just as third period was starting," she said, "I had to take a picture of the vaccine card and then come back during the middle of the day."
Vautier said she thinks the contact tracing process has an emotional toll on students..
"I think it's definitely caused a lot of stress and uncertainty with the students at Jones," Vautier said. "Even for me there was a week when I was at school and I wasn't supposed to be but no one told me."
Some students who received the close contact email said they did not know how to get off the quarantine list or even that they could. 
"On the actual letter that they sent to the kids who were quarantined, it didn't say anything about vaccinated people," said Chiara McGowan '24, who quarantined for three days. 
After receiving a close contact email, many students said they were not aware that they could return to school if they provided vaccination proof.
"Tuesday night, after I stayed home from school again, not CPS, but Jones College Prep sent an email to my parents saying that if I have my vaccination card I can send it to a certain CPS email and send that in," Alma Marshall '24 said. "So I did that and came to school the next day on Wednesday."
Marshall said that she was very confused, and unsure about how to deal with her situation. 
"There was no instruction given on how to contact my teachers, if I should email them" she said, "I didn't know what to do at all."
Even though her quarantine lasted for a short amount of time, Marshall expressed frustration because of her absence. 
"I think I missed a lot even from those two days and I'm annoyed," she said."I missed out on trying out for the play. I missed out on two days of very valuable classes." 
Both McGowen and Marshall said they feel as though they have missed out on important instructional time during their quarantine.
"I felt very behind. I still feel like I'm catching up now," McGowan said.
Students said they feel that if there was better communication they would not have missed out on so much. 
"I would say there was a lack of communication, it wasn't as much miscommunication," said Vautier. "Communication is key in these types of situations."
Leave a Comment
About the Writer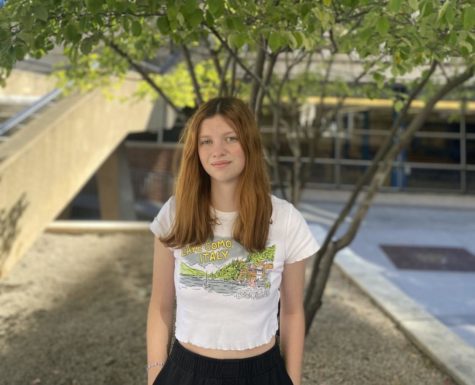 Meghan Cuddy '24, Deputy Editor-in-Chief
Meghan is a junior and the Deputy Editor-in-Chief of podcast and broadcast on the Blueprint. She is the team manager on basketball and participated in...