Twenty-two rules the school
Senior takeover picks up for the first time since COVID-19 lockdown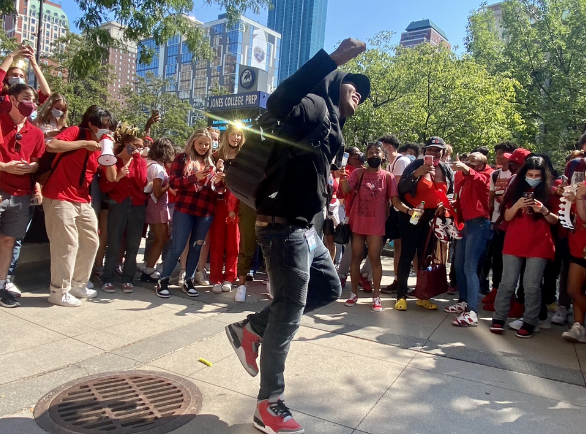 On Thursday Sept. 9, Jones seniors took over the school dressed in their class color, red, and sported fun props including crowns and sunglasses. 
The class of '22 showed their school spirit and class pride with high energy and excitement. 
"It was amazing, my friend threw toilet paper all over! It was really fun," said Katya Carufe '22. 
Before class, seniors started the day by picking up fun items including whistles and inflatable clappers handed out by student government in the lobby. From there, the day included several different activities, such as a march through the halls and a mosh pit during AcLab.
"There were moshpits and crowd surfing on the fourth floor," Carufe said. "Someone brought a speaker and we were also in the courtyard for a while."
Even seniors who believe that they don't have much school spirit were happy to take part in the activities.
"I definitely felt like I had more school spirit today," said Simon Hu '22. 
While participating in their own takeover, seniors reflected on witnessing the tradition when they were freshmen. 
"I remember the seniors; I think their color was purple," Carufe said. "I remember them screaming." 
Because of COVID-19, seniors said that the day was especially meaningful after the lack of in-person gatherings last year.
"Yeah, I'm grateful that we got to do a takeover this year," said Cole Francis '22. "Being in student government, it's definitely been fun to plan in person events for the seniors."
After a successful day, seniors are excited for more class activities in the future.
"I am really looking forward to senior games when all the other grades are there. It sounds really fun," said Hu. 
Overall, seniors agree that the takeover was exciting and a good beginning to a year filled with more senior festivities.
"It was a lot different from when I was a freshman, which was the last time we did see the takeover. I was a little scared then, but this time I was ready to bring that same energy into this takeover… we had fun," said Francis.
Leave a Comment
About the Contributor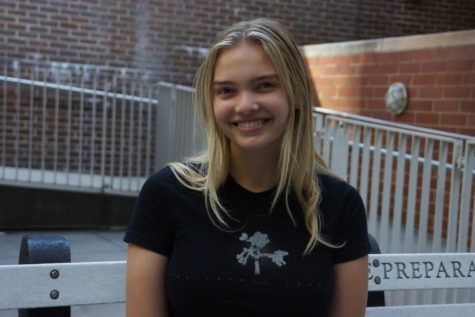 Norah Hendrickson '23, Editor-in-Chief
This is Norah's third year on the Blueprint and has been enjoying her new role as Co-editor in chief! She loves leading the Broacast/Podcast Section...