Movie Hidden Figures doesn't get it all right
The journey of a group of POC women making history at NASA
Almost everyone knows of the movie Hidden Figures, a movie mainly focusing on the life and accomplishments of Katherine Johnson at a racially segregated NASA base, but not many know of the book by Margot Lee Shetterly and the true story of the heroines of Langley Research Center. 
While the movie is fairly well known, it is not all that accurate. There is a lot more detail in the book, and a lot of the women's accomplishments are not shown, probably, for the sake of time. For example, there is no big speech given by Katherine on having to use the colored bathroom, one of the most inspirational scenes from the movie. Instead, there are small acts of defiance and small victories for the girls displayed in the book.  
Shetterly goes very deep into the history and time period surrounding the narrative. Every time a new topic or character is brought up, there is some history to go along with it. For example, when Shetterly writes about one of her characters working in a laundromat, she goes into detail on the history of how and why people ended up working in laundromats.  In the prologue, where she covers her background and interest in the story, she details how she discovered much more than expected, and it is evident in the novel. 
Another aspect of this novel that makes it a good read is the significance of the story being told. It is not simply a women's history month book; it also covers race and class issues. It is a  story of World War II era NASA computers who go on to higher places and help send men into space. Shetterly wrote, "What I wanted was for them to have the grand, sweeping narrative that they deserved, the kind of American history that belongs to the Wright brothers and the astronauts, to Alexander Hamilton and Martin Luther King Jr. Not told as a separate history, but as a part of the story we all know. Not at the margins, but at the very center, the protagonist of the drama. And not just because they are black, or because they are women, but because they are part of the American epic." This is such an important story to tell because of a lack of colored women in STEM, and Shetterly does a great job of telling the story of a group of African American women who did great things for NASA. 
This being said,  her writing can be difficult to follow. It is not only the story being told, it is also about the history of the characters, the history of racial segregation, the history of NASA, the history of women's rights, and the history of Virginia. It has a slow start to build up all this history and character development, but eventually starts to feel more like a story than a piece of scientific work. 
Because of its low readability, this book would be good for mainly intelligent people, so Jones student's should be happy with it. However, it is a more historical novel, so people looking for more fantasy or a singular topic and plotline might not like this read. Once the first bit of introducing the characters, setting, and history is over, the story begins to unfold and become more of a narrative, which is enjoyable. Overall, this book has a very important message and tells an interesting story, but it may be difficult to keep reading in the beginning. This book makes a great women's history month read, but it may be a bit slow-moving for some who are not accustomed to historical or nonfiction books.
Leave a Comment
About the Contributor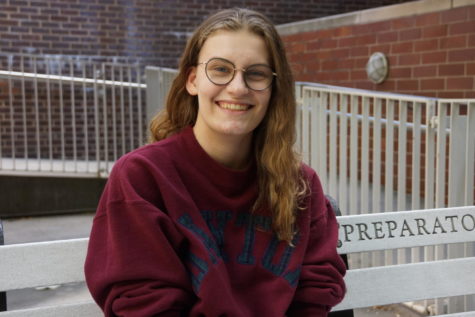 Carrigan Garrity '22, Managing Editor and Human Resources Co-Manager
Carrigan is the managing editor and co-human resources rep for the Jones Blueprint. She is involved in the Jones Swim team, as well as many different clubs...