Teacher speaks out on Asian-American hate crimes
Hate crimes surge during COVID-19 pandemic
After a surge in Asian American hate crimes, English teacher Brian Bastyr took the first initiative by drafting a statement to the Local Student Council (LSC) to increase conversation and awareness. 
Because there have been so many cases of coronavirus-based discrimination, several school districts have made resolutions to address the increase in hate crimes and advocate for their students. However, Jones has yet to issue a statement. Motivated by his personal experiences as a member of the Korean community, Bastyr understands firsthand the importance of increasing awareness about discrimination against Asian Americans. 
"When [Jones] says something, we let our students know that we understand some of the situations that you're in, and we'll help you how we can," said Basytr. "I think that's important to do, and I think it builds for a stronger community.
 Having these conversations with students allows for those affected to be recognized and validated. 14.9 percent  of Jones students are Asian American Pacific Islanders (AAPI), not including Asian Americans in the multiracial category.  "Even if it was just one student, they deserve to be recognized, and then Chinatown is also our neighbor," said Bastyr. "They've been hurt very much because of COVID-19. I think being a good community member also means that we make people aware of what's happening."
  Asian American hate crimes are making headlines and trending topics. However, these conversations aren't really being held in public spaces.
"I think just expressing any sort of acknowledgement that it is an issue in the first place, an issue that's going to be relevant not just to members of these communities but also to people who are purportedly in solidarity with them is kind of the bare minimum," said LSC community representative, Rachel Zein. 
Before COVID-19, Asian American discrimination was seldom discussed at Jones. In fact, the actual inspiration for the drafting of this statement came from a bet a student made with his friends regarding whether the school would address this issue in a timely manner.  
"It's something that can affect the mental health, and the stress that students at Jones face, particularly students in the AAPI community," said Trinity Lee '21. "It's really important that we kind of acknowledge that, especially because students may be facing those pressures at home, and it can be another stress that they're experiencing and don't feel welcome to bring it up in classrooms or with their friends or with their teachers, which can be very harmful." 
The purpose of the statement drafted by Bastyr and Zein with the help of Lee is meant to solve the current lack of recognition. There was some talk about implementing bystander training for teachers, but for now, the main focus is just to raise awareness for students at Jones. No news about any specific policies being enacted yet, but the draft is currently being reviewed and edited by members of LSC.  
"Any policy that we have that is inclusive and makes students feel that we care and they're an important part of our community are good ones," said Bastyr.
Leave a Comment
About the Contributors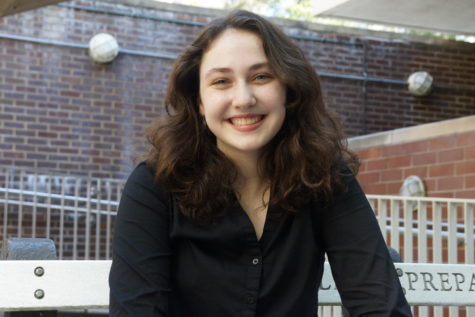 Fiona Kogan '22, Co-Editor in Chief
Fiona is a senior at Jones and this year's co-Editor-in-Chief of the Blueprint. Additionally, Fiona is involved with NHS, NEHS, Girl Up, and Young Democrats...