Who runs the schools? Girls.
Women make up an overwhelming majority of Jones teachers
The teaching profession has been female-dominated for centuries, and the Jones teaching staff is no different. 
76 percent of Jones teachers are female, according to the 2019-2020 Illinois Report Card. 
Teachers believe they play a role in empowering and uplifting their students. English teacher Olivia Guerrero believes teachers can empower their students through their curriculum. 
"Being an English teacher, I think it's important to have representation in the text and the curriculum that we teach," Guerrero said. "Really having powerful female voices represented in our text is one way to do that."
Computer Science teacher, Cynthia Lilagan, said stereotypes inhibit women, especially in the male-dominated fields she specializes in. 
"There are these stereotypes that sort of lead you away, push you away," Lilagan said. "Their solution basically is that they need to find mentors and allies, and you need to find them sort of early on in your field and you need to cultivate those relationships. I'm already starting to have some of my students reach back."
Rawan El-Bawab '22 said they believe female teachers can serve as role models for their students, especially those who teach classes in male-dominated fields.
"I love my math teacher. She's my favorite teacher this year," said El-Bawab. "The class is really difficult and a lot of times I will be confused, but for some reason, having a female voice there, in the position of power in the class, almost makes me feel more empowered, less afraid to just ask my questions if I'm confused."
Teachers can play a significant role in dismantling gender stereotypes to empower their students, but there is still history of gender-based discrimination in the teaching profession. 
Guerrero and Lilagan both attributed the high percentage of female teachers to the traditional idea that women are seen as caregivers and are therefore best fitted to instruct children. 
"I think because people see [teaching] more as very sort of caring and nurturing. It tends to be a giving profession. Caring for young folks, that's historically been the role that people see women filling," said Guerrero. 
Jones teaching staff represents the Chicago Public School gender demographic. However, women may be overrepresented as 51.4 percent of Chicagoans are female, according to the Census. However, Guerrero said she has mostly been employed under male principals and other administrators. 
"I think representation is super important, which is interesting because the CEO of CPS is a woman," said Guerrero. "I'd be curious in knowing the demographics of CPS principals because at least from the schools that I've been in, it's mostly been males who are administrators, which is interesting when you point out that most of the teachers are women. Just having women in these positions of power would be super huge."
Guerrero said one of the most important ways to celebrate Women's History Month is continuing conversations on women's equality. 
"We don't see this much in teaching, but in general, talking about women's rights is just a way to celebrate women's empowerment," she said. "Talking about the wage gap, the pink tax. That is just one way to celebrate women, not only during Women's [History] Month, but all year."
Leave a Comment
About the Writer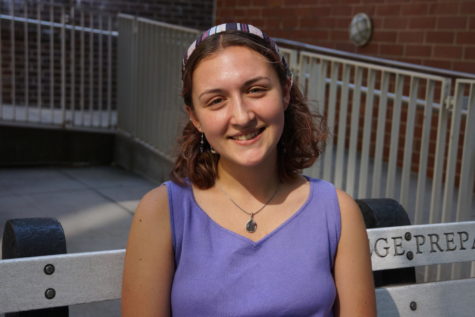 Whitney Shurtliff '22, Associate Editor, Print
Whitney is excited to continue at the Blueprint as Associate Editor of Print during their senior year at Jones. She also participates in National English...