EXCLUSIVE: 'Moxie' expands beyond white feminism
Blueprint sits down with upcoming Netflix leads
Comedy icon Amy Poehler directed "Moxie," a movie about the power of teenage feminism in schools, racial equity, and sexism in sports. 
The film focuses on Vivian Carter, a teenage girl played by "Little Women" star Hadley Robinson. The film also stars "Saved By the Bell" reboot actress Alycia Pascual-Pena's character Lucy Hernandez.
Robinson's character, Vivian, is fed up with the blatant sexism of her school. Through an underground zine, she forms alliances with her female peers to combat the problems at hand. 
"What makes this movie so special is that it's so inclusive and you really see people from every background, culture, every shape, and color," said Robinson. "Seeing everybody come together and interact with each other and learn from each other." 
In Moxie, the characters themselves begin to understand more about each other's experiences and boundaries at a party in the movie while beginning to form their movement. 
"I thought that it was really dope to see all these girls talk about how they wanted to implement change, there's a scene in our film where they're like in this very masculine den," said Pascual-Pena. "And they're kind of learning from each other and saying, 'No I don't like that and that makes me uncomfortable,' you don't know those things unless you have those transparent conversations." 
Robinson also said that the diverse cast of the film brought a "new kind of energy" to the movie.
"You can see in the film that it's exciting to learn from people who aren't like you, and it's really exciting to have friends who are completely different from you because there's that much more to learn," said Robinson. 
Despite how common it is for Black characters not to be given as much screen time or development as their white counterparts, Pascual-Pena said that wasn't the case for Moxie.
"It never felt like a sense of tokenism, or it never felt like a sense of disingenuous diversity. You know, we're really striving to make intersectionality the main focus," said Pascual-Pena.    
Part of what made Pauscal-Pena's character three-dimensional was a small romantic plot between Lucy and Amaya, another character in Moxie played by Anjelica Washington.
"We see that beautiful moment where I get to kiss the phenomenal Anjelica Washington in the film and I think that that just adds substance to my story and my character. I am outspoken and some people may deem me aggressive, unfortunately, but I'm worthy of love and I'm multifaceted," said Pascual-Pena." The fact that I got to have moments where I speak Spanish, moments where I'm dancing [the] bachata, and getting to show up fully, as me, as an Afro-Latina woman, was really powerful."
In non-BIPOC centered movies, African Americans and other minority figures lack representation. African Americans and members of the Latinx community specifically are often displayed in a stereotypical manner when it comes to their portrayal in movies. 
 "She also has a tenderness to herself, and she also was vulnerable. As Black women, we are inherently a revolution and we should be respected that we are at the forefront of all of these movements," said Pascual-Pena.
 As an Afro-Latina, it was very important for her character, Lucy, to not be disregarded.
 "She's this radical feminist and unfortunately that's demonized and I think that we're fed this falsehood that women who are very vocal and outspoken are callous and undesirable and not worthy of love," said Pascual-Pena.
Women's empowerment and inclusion are a large aspect of this film.
"It just made me so much more proud and humbled to be a part of the film," said Pascual-Pena. "Not only is this centered by women of film produced, written, and directed by women, but we are celebrating women in all of their womanhood and femininity. You know, we have women of different races, cultures, backgrounds, abilities, and gender identities and that is so powerful, especially because we haven't seen it and I think that there's so much power in that."
Leave a Comment
About the Contributors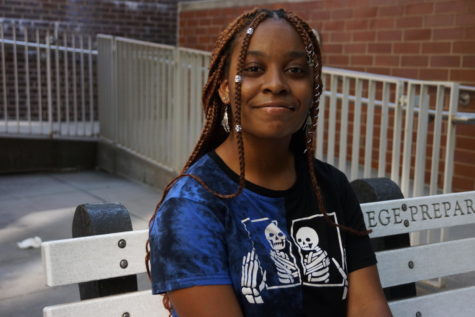 Akira Sinnott '22, Opinion Editor
Akira is a senior and the Opinion Editor. She can be found practicing phlebotomy or playing soccer. Her favorite color is red and she is so excited to...