South Loop restaurants close as pandemic continues
Jones "staple" restaurants permanently shut down amidst pandemic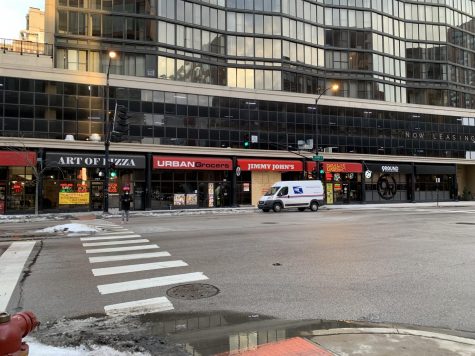 Several community announcements confirmed a number of Jones-area restaurants have gone out of business or plan to close after lack of student customers and business.Before March of last year, dining choices closest to Jones included diverse fare such as Panera, Devil Dawgs, and Art of Pizza. Restaurants like these would cater to Columbia College, Robert Morris, Depaul, Roosevelt, University of Illinois-Chicago and Jones students.
Among those that have permanently closed include Hax: Hops and Hamburgers (formerly Hackney's), a longstanding diner located on Printer's Row. The former owners of Hax also own the Flaco's Tacos next door, as well as Gordo's ice cream parlor connected to the building. According to Yelp, the Chicago themed diner, Standing Room Only (SRO), is temporarily closed.
Another restaurant to close permanently is Pauly's Pizzeria, ending a 20-year stay in the South Loop area.
Other restaurants have opted to temporarily close during COVID-19, including Buddy Guy's Legends, a South Loop staple for nearly 30 years. On State St. and Van Buren, the familiar Panera building lacks the restaurant inside of it. The once crowded restaurant where students would socialize and eat is now a ghost town. The paintings, signs, lights, and furniture once inside are now gone.
At Jones, upperclassmen are typically allowed to leave school campus for lunch, opting to buy from one of the many surrounding establishments. Miranda Green '22 is one of this year's juniors that was never able to utilize this privilege, as schools instituted remote learning prior to Green's junior year. Green is among students concerned about the fate of restaurants next year.
"I don't really plan on using the out-of-school lunch policy next year," said Green, "I'm not a very big fast food person to begin with, but also I'm not even sure what's still around down there, and it might be even more crowded if everyone comes back to work and school at the same time and wants food."
Many restaurants have had to rely solely on take-out dining and curbside pickup for their sales, making their futures even more tenuous. However, the city recently increased indoor dining to 40 percent after a drop of COVID-19 cases. These restaurants include Flaco's Tacos, Devil Dawgs, The Grail Cafe, Starbucks, Cafecito, Potbelly and Wingstop.
Many Jones students have lamented the loss of out-of-school eating and consider what a future back in school might look like. Goodwin Lane '23 said he looks forward to eating outside of Jones when possible and thinks it might make for a safer environment.
"First, I'm worried about the safety of lunch in school, because eating requires students to remove their masks," said Lane. "Unless teachers, students, and staff are vaccinated, I don't think taking our masks off is a good idea. Eating outside would feel much safer to me. Second, out-of-school lunch sounds fun! I wouldn't want to eat inside a restaurant, but eating in a park or something would be nice. I'd really enjoy a quick break from being in school."
Benedict Shwaegel '21 will be graduating this year and often used the "off-school lunch" policy to reward himself after taking a test or finishing a difficult assignment. Shwaegel wasn't surprised at the increasing loss of patronage at these restaurants.
"I'm not really [surprised], since not many kids are stopping and getting things to eat, " said Shwaegel. "They would lose a good chunk of income."
Leave a Comment
About the Contributor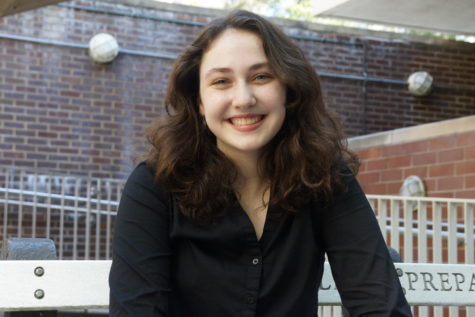 Fiona Kogan '22, Co-Editor in Chief
Fiona is a senior at Jones and this year's co-Editor-in-Chief of the Blueprint. Additionally, Fiona is involved with NHS, NEHS, Girl Up, and Young Democrats...