New mental health club reaches out
National Alliance on Mental Illness club connects with students virtually
The National Alliance on Mental Illness club (NAMI) started to reach out and talk to Jones students about mental health in January.  
"I remember thinking it was weird that a school as big and rigorous as Jones doesn't have a mental health club," said Sofia Cruz '22, one of the creators of the club, "which is one of the reasons we started it."
The club strives to connect with students who are dealing with mental health issues and create a platform to share ideas and helpful strategies.
"I liked the club because it was formed to build a community and to give advice to each other, and that's something you can't always get at home," said Yadira Reyes '22, another admin of the club.
The club meets twice a week and meetings consist of an icebreaker, a brief presentation, and an activity. These meetings are helpful and impactful to their members.
"The club has made me more aware of different types of mental disorders and helpful ways to manage my stress. I would really recommend it to friends," said club member Jackie DeMille '23.
Members have even reached out to the student club leaders to express their support and gratitude.
"We've received DMs before on our Instagram (@jonesnamiclub) thanking us for starting the club and feedback that the club is really helpful," Cruz said. 
Though they are not licensed professionals or therapists, the club leaders do a lot of research and use personal experience to present reliable information during club meetings.
"Though we are not trained mental health professionals, we do our best to make sure our information is good and ethical," Cruz said. 
Club leaders also recognize that being close in age is helpful in connecting to peers about important topics like mental health.
"There is a certain advantage to being the same age as someone and to talk about shared experiences," said Reyes.
Members understand the importance of clubs like this and their roles in schools.
"I think it's important for more students to bring awareness to mental health in their schools to add to the support of counselors and teachers," DeMille said. 
Leaders said they benefit from the club as well as members.
"It's been super rewarding learning more about the topic to share with others," Cruz said.
The club, though rewarding, has presented a few challenges as well.
"The hardest challenge is to find information to try to help everyone and come up with strategies that work, even though different things work for different people," said Reyes.
Leaders understand that Covid-19 has made it tougher to connect to fellow students but have optimism for the improvement of the club when school returns to in-person.
"I think there will definitely be an improvement with being able to talk to people more one on one and the way people interact with each other," Cruz said. 
According to members, the club has achieved its goals of bringing students together and shedding light on mental health. 
"I think what they are doing is amazing, especially with bringing awareness to mental health issues," said DeMille.
Leave a Comment
About the Contributor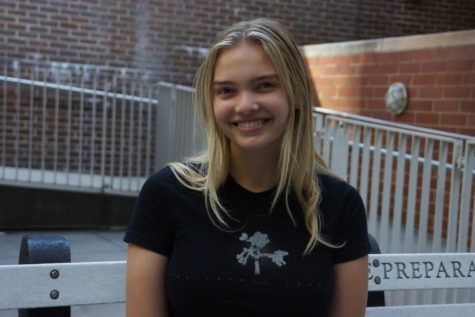 Norah Hendrickson '23, Editor-in-Chief
This is Norah's third year on the Blueprint and has been enjoying her new role as Co-editor in chief! She loves leading the Broacast/Podcast Section...