Jones progresses reopening plans
Administration starts in-person learning plan
Jones administration starts to plan for in-person learning, despite Chicago Public Schools not announcing a high school reopening date. CPS and the Chicago Teachers Union recently came to an agreement on reopening schools after a strike threat. With the current plan, all Elementary and cluster program schools will be back in school by Mar. 8.
"Going back to school is essential because it provides more social interaction with people our age and helps teachers and students connect on a deeper level," Maddie Huang '23 said.
Principal Joseph Powers said he wants to see students back at school in the near future, ergo, in a safe way. 
"I think it should be done carefully because we want to make sure that everyone is safe and we're following proper protocols, but I think it also is extremely important that we start having students back in school, at the earliest possible time, and in keeping with the health and safety protocols," Powers said. " It may be possible to have some students in school. How many students, which grade levels, and how many days, that all remains to be seen. I do think that we will have some flexibility in how we do it as long as I have an overall set of guidelines to work with." 
While many people are hoping for a set date on which students will start returning to school, one has yet to be set. 
"With regard to reopening for the rest of the high school program, we are basically waiting to hear from CPS. We've given quite a lot of input and I've been involved with the high school reopening task force," Powers said. "There's not a set date. Personally, I am hoping we'll be able to have some students back in the building by the fourth quarter, but again, those are decisions that CPS is going to have to make. And then we will implement it at the building level." 
9 cluster program students have returned to learning in the Jones building, along with teachers and support staff needed to run the program. Additionally, numerous teachers have chosen to work from their classrooms instead of teaching from home. Three staff members have tested positive for COVID-19. 
"We've sent out notifications to everybody's families to let them know when that has happened. The CPS Health and Wellness department handles the contact tracing and identifies who may have had close contact," Powers said. 
There are, however, a lot of factors in determining when students return and how they return. One factor is how well equipped the Jones buildings are to handle students in the building during COVID. 
"Right now I think we're very well prepared. What we're doing right now is on a very small scale, as far as the number of people goes. However, the cleaning and disinfecting of the building is an ongoing process, along with the improvement of air quality through the use of air purifiers in each of the classrooms and other spaces, and the tracking process of people coming into the building," Powers said. "Jones has also implemented a health screening form and a temperature check for everyone entering the building." 
Another factor of returning to school is how comfortable Jones teachers are with returning and the disagreements between CPS and CTU regarding reopening plans. 
"My sense is that most teachers would be okay going back to school. I think the biggest concern for teachers is the fact that that North building doesn't have windows that open, because that's one thing to do to help with airflow is to have the windows open," Anthony Cappetta, one of Jones' 3 CTU representatives said. "I can tell you that that is definitely a big concern among staff members – being stuck in a room for eight hours and not having fresh air come in."
As Jones tries to figure out which model will be used to bring students back to school, one idea being floated around is the continuation of Eagle Days once students return. 
Additionally, Jones is trying to figure out the best way to bring people back and while not diminishing anyone's learning experience. 
"Regardless of what model we follow, we're going to find ourselves where some students are in the building, learning, and some students are still at home learning," Powers said. "I think our two biggest challenges are going to be logistics and technology. Making sure that the students who are sitting in the classroom and the students who are sitting at home are getting the same access to good instruction. You have to set it up in such a way that it doesn't interfere with the course of study that they're already in. I want to make sure we have that consistency through to the end of the school year."
View Comments(1)
About the Writer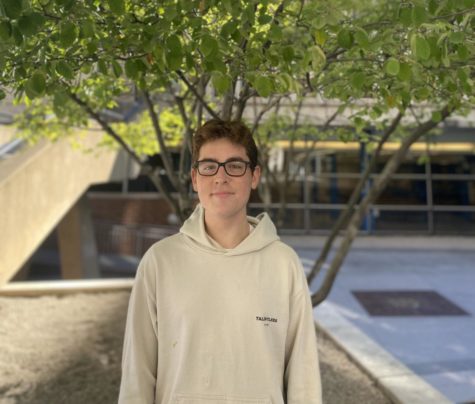 Gabi Josefson '23, Editor-in-Chief
Gabi is a senior who is exuberant to serve as the Blueprint's Co-Editor-in-Chief. It's his 3rd year on the Blueprint and he is thrilled to be part of this...