Making a comeback
Student Voice Committee gets more attention amidst current events
With rising awareness of the issues BIPOC students face at Jones, the Student Voice Committee (SVC) has grown in size and impact. 
The SVC is an organization in all Chicago Public Schools dedicated towards representing the students to their administration and other people in power.
"Student Voice Committees are organizations that are designed to act as a mediator between students and the leadership of the school and offer a direct line of communication for students who want their voice to be heard by those in positions of power," said interim sponsor, Laura Strickalnd. "The goal of SVC is to provide a platform and well-known mechanism by which students know that their voice is being heard and that they have an active say in influencing the school and decisions made within." 
This year, the SVC's presidents, Simone Jones '21 and Izzy Pareja '21, said they plan to focus on instances of racial insensitivity. 
"This year we really wanted to focus on making Jones feel like a safe and comfortable environment for people of all backgrounds, especially considering everything that's been happening lately," said Pareja. "It seems like this is the most important issue to tackle at the moment."
The surfacing of the Jones BIPOC Instagram page caused many students to share their stories, and in order to represent these students, Jones and Pareja plan to create a better relationship with the school's administration. 
"We felt it was a huge part of Jones to address this because over Instagram it's very clear that the relationship between students and administration and students and teachers is not where you want it to be," said Jones.
Because students have said to have seen the issues with the administration doing seemingly little to coach about racial insensitivity, the interest in the SVC has grown, even in a remote setting. 
"It was kind of confusing and a little bit concerning how it would work out, but so far it's been really good just based on the social media output and utilizing other clubs, like demographic clubs, to spread our word that we're here," said Jones.
Not only does the SVC deal with the news circumstances because of the pandemic, but they also are experiencing a change in sponsors. However, they said they are using it as an opportunity rather than a setback.
"Of course at first we just said 'Oh well. We're going to have to find someone new' and took baby steps a little, but it's good that we kind of have a clean slate," said Jones.
Even with these trying times, the SVC  had their first meeting to officially get to know the students they are representing, especially with their influx of new members.
"We have had our first introductory meeting, which was very productive. We discussed issues we want to address in the future and committee norms," said club member Railey Montgomery. "The turnout for the first meeting was great and we hope to see even more people join and be able to speak their mind."
Story from Volume 6, Issue 1
Leave a Comment
About the Contributors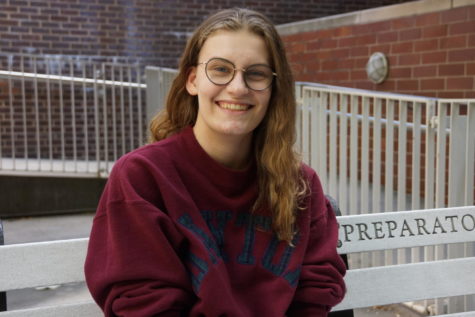 Carrigan Garrity '22, Managing Editor and Human Resources Co-Manager
Carrigan is the managing editor and co-human resources rep for the Jones Blueprint. She is involved in the Jones Swim team, as well as many different clubs...