Jones Green Team plans tree planting event
Q+A with Green Team's Alyssa Price '22
Gabi Josefson '23: What is the event that Green Team is planning?
Alyssa Price '22: "Green Team is planning an event with Treeplenish. They partner with a lot of schools around the country to offset different schools' paper usage. What Green Team is doing specifically is partnering with Treeplenish to offset Jones' paper usage. In April we are going to plant trees around the city, but in the meantime, you can either buy a tree or donate a tree to get planted in someone's backyard. We're really doing it as a way to show how much paper Jones uses and ways that we can reduce the negative effects it has on the environment."
GJ: How much is a tree?
AP: "It's 5 dollars. You can buy your own tree for 5 dollars or you can donate 5 dollars if you don't have anywhere to plant a tree."
GJ: Is this an event that has happened before?
AP: "It's new to Jones but it's not a new organization."
GJ: What does Green Team need from its volunteers?
AP: "We want volunteers who are passionate about the environment and Jones. Specifically, people who want to know how to reduce our carbon footprint and reduce the waste that we produce. Especially as a school, we go through so much paper and a lot of it goes to waste, like extra things that are printed that don't end up being used, so we want people who are environmentally conscious. Especially in that school and education concept, we want people who actually want to be involved and want to plant trees and have that hands-on approach to fighting climate change."
GJ: What is the end goal of your event?
AP: "We have a goal of planting 115 trees. This is the number we determined would offset the paper usage at Jones.  Our hope is that, between now and April, we can get that many trees bought or donated and end up planting them."
GJ: How has your club adapted to the COVID-19 pandemic?
AP: "I would say that we've adapted for the better. I think we've really expanded our mission from just paper waste and recycling to being environmentally conscious and wastefully conscious as a whole. We've had two meetings so far, and we have meetings pretty much every month. Our last meeting we talked about fast fashion and the effects that it has on the environment and the economy. We talked about water pollution and the oceans because that's a huge issue today. So we've definitely expanded our approach from being environmentally conscious within Jones to talking about waste and recycling beyond the school front."     GJ: Have you had smaller events?
AP: "In the past, we've collaborated with Thrift Fashion Club, which is another school organization. This is the first major thing we've been involved with outside of Jones."
GJ: Where do you hope this group will go in the future?
AP: "I really like working with organizations outside of Jones and want to do it again. I think it helps our message become more impactful for more than just our school. By planting these trees in the city, we're helping the city that our schools reside in, so I think it takes a school club up to the next level and makes it more impactful. I think trying to find other organizations for Green Team to partner with is definitely our next step in the future and I think that will be very beneficial for society as a whole."
Leave a Comment
About the Writer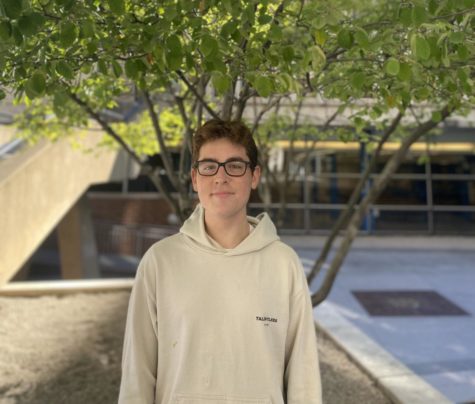 Gabi Josefson '23, Editor-in-Chief
Gabi is a senior who is exuberant to serve as the Blueprint's Co-Editor-in-Chief. It's his 3rd year on the Blueprint and he is thrilled to be part of this...