Freshmen take first finals from home
Ninth graders prepare after remote semester
Despite finals being less than a week away, some freshmen said they aren't sure of what their finals are going to look like or how to prepare.
Due to the COVID-19 pandemic, freshmen started their first year at Jones remotely. Now, they prepare for their first finals on their own. 
"I don't know whether or not to be nervous because I just don't know what to expect," said Zola Ma '24.
Freshmen said they are hoping more information will be shared with them. Principal Joseph Paul Powers shared a new finals schedule for this semester through weekly updates. Finals are spread over four days instead of the traditional three and will start on Monday, Feb.1 instead of on the normal Tuesday. 
"It would be nice if, in the next week or two, we could get more information on that, I think that'd be very beneficial to everyone." Ma said.
With a lack of information from their teachers, freshmen have turned to older peers to understand how finals might be conducted.
"I have a sophomore friend and he has helped me a little bit to understand what finals are like," said Étienne LaFlamme '24. "So, I guess that makes me feel a little more comfortable but in general I'm kind of nervous."
Though they will be taking their first high school final online after a virtual semester, LaFlamme and Ma both agree they don't feel negatively impacted. 
"I don't think I'm disadvantaged," LaFlamme said. "In fact, I'd say, in some ways, it's probably an advantage."
Some freshmen said their classes have been easier online and are confident that they have been prepared for the content of the finals.
"Everything got to be kind of a little bit easier and I'm not afraid that there's gonna be stuff that we don't know on the finals. I feel like they probably already taught us everything. Again, I'm unfamiliar with the format of the finals though," Ma said.
Being virtual has brought social challenges to freshmen along with their preparation for finals. 
"I feel like if I was at school I would probably have friends and we'd be able to study together for the finals or something," said Ma. "But I don't know a lot of people and I'm kind of on my own."
Math teacher Sarah Rayski, who this year is teaching a class of both freshmen and sophomores, said she understands the "social isolation" that freshmen might be dealing with.  She said she is trying to "break students out of their shells"  during class time.
"For freshmen, they might not know anybody and it's really isolating to be quarantined and be learning remotely when you're by yourself," Rayski said. 
In Rayski's math class, students interact with each other through fun questions to get to know their classmates.
"We try to do things that are not necessarily academically related like questions of the day about your favorite childhood movie to find some points that we have in common, that we can relate on and people can build on in their breakout rooms, just to give a little more identity to each other so that we're not so you know some blank screen," said Rayski.
As for finals, Rayski said the Jones administration is adding to the pressure students are already facing due to  COVID-19.
"The whole thing is just crazy and to be giving a final in the middle of a pandemic is a little bit of added stress," Rayski said. 
To alleviate this anxiety, she decided to lessen the weight of finals this semester by having it count for 10 percent instead of 20 percent of students' final grades.
"I don't think it's a valid form of assessment for those higher-order thinking kinds of things. I just don't think the stress level is fair in the middle of a pandemic," Rayski said.
Leave a Comment
About the Writers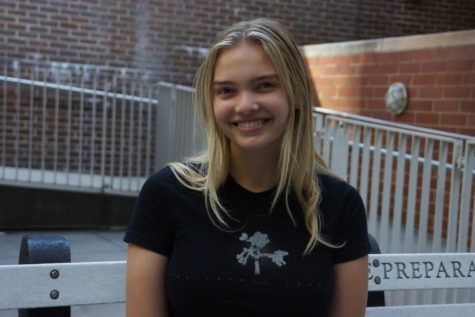 Norah Hendrickson '23, Editor-in-Chief
This is Norah's third year on the Blueprint and has been enjoying her new role as Co-editor in chief! She loves leading the Broacast/Podcast Section...