Diverse learners return to in-person learning
First Jones students return after 10 months of online learning
Some Special Education (Diverse Learners) students returned to in-person learning on Jan. 11 as the first part of Chicago Public Schools (CPS) reopening process. 
Diverse Learners and pre-school were planned to return to in-person school around November. However, these plans were backtracked due to a surge in COVID-19 cases.
 Since the reopening of Jones, Principal Paul Joseph Powers said in an email Jones had a positive case of COVID-19.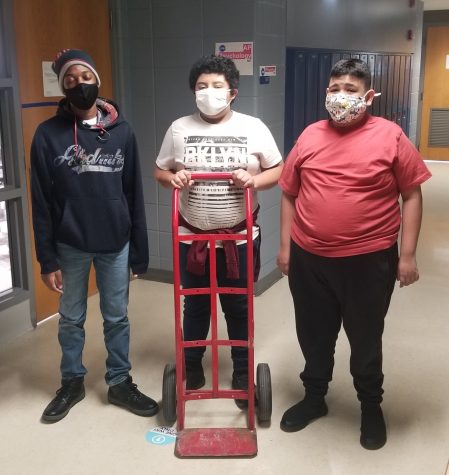 Diverse Learner teacher Andrew Adelmann said the first day back was relatively quiet, yet strange, largely in part due to the 10-month gap from the first COVID-19 lockdown to the day of return.
"It was pretty uneventful, obviously, and strange from the perspective of just going back to school and to my classroom," said Adelmann, who returned to Jones to teach. 
Adelmann said the Diverse Learners students that returned were very excited for in-person learning.
 "We have about 11 total students, and students that have been here have been super enthusiastic – we have some new students who are freshmen, who have been pretty excited to see the school and be able to interact," said Adelmann.
While those who returned were excited for in-person learning, the majority of Diverse Learner students have not returned to Jones.
"We have nine students in our monitored cognitive program – nine out of about 37 or 38 students," said Adelmann. "We have just under a third of our students back."
In regard to health, Adelmann said there are precautions that the Jones administrative and custodial staff have made in order to keep students safe when they return to in-person learning. 
"[The] number one [priority] is the kids are not switching classrooms," said Adelmann. "Prior [to the pandemic], our students – just like general education students – would rotate between three classes. [Now,] instead of them rotating so we can keep pods the same, they're staying in the same classroom." Due to smaller class sizes, in-person Diverse Learners get more hands-on education. 
"[The] second set of differences is how it feels – there's [fewer] staff and students in the building, so things are a lot quieter," said Adelmann. "The third component is the processes [required] to come into school – the health screener, getting their temperature checked, wearing the masks." 
However, Adelmann expressed gratitude to the custodial staff in keeping the school safe, praising the efforts they have been undertaking to keep the school clean.
"The school is being cleaned thoroughly. There are door tags that hang on each door – it'll stay clean when you come in," aaid Adelmann. "If you enter a room, you switch it over to the other side, which is basically all black with the CPS logo, and that indicates to custodial staff that they need to clean that room. My room has never been cleaner than it is [now]."
While Adelmann has a generally positive attitude towards returning to the school building, some Diverse Learners teachers are a bit more wary.
"In general, I do not think it is a good time to go back to in-person," said Diverse Learners teacher Melynda Kroeger. "The infection rate is too high in Chicago."
Kroeger was not chosen to go back to in-person teaching. She highlighted how going back to in-person school may have negative effects on both Diverse Learners in virtual classrooms as well as in physical classrooms. Kroeger stands with the Chicago Teachers Union's beliefs that fights the return to in-person learning. 
"Many students in our cluster program rely on facial expressions for communication," said Kroeger. "This will make it more difficult for students at home watching on camera, and in person, to understand the teacher's non-verbal facial communication through a mask and absolutely necessary PPE (personal protection equipment)."
Going back to physical classrooms isn't just a problem for Diverse Learners students, though. It's a struggle for everyone involved, according to Kroeger – one that she said is unnecessary and unsafe.
"Trying to meet the needs of the students in the classroom, while simultaneously meeting the needs of kids learning remotely will dilute the education for all," said Kroeger. "Coronavirus is temporary, and there is a vaccine around the corner. I would much rather keep everyone safe for a bit longer in order to ensure that we can all be together again in a safer environment."
Story from Volume 6, Issue 2
Leave a Comment