CPS changes high school admissions process
Eighth graders apply to selective enrollment high schools amidst pandemic
To accommodate families during the pandemic, Chicago Public Schools (CPS) made significant changes to its 2020-21 selective enrollment application process.
CPS recently extended the high school application deadline to Jan. 9, 2021, and both the high school admissions examination and the Northwest Evaluation Association (NWEA) Map test will take place in person. 
For fall of 2021 high school admission, CPS will consider students' highest Map scores from either spring 2019, fall 2019, winter 2019, fall 2020, or winter 2020. 
Allison Xu, an eighth-grader at Lane Tech, said her score from spring of 2019 will not help her get into her school of choice, Whitney Young. 
"We actually didn't take [the NWEA] in seventh grade, so my highest score would be from sixth grade. They would be in the like, 85th percentile, so those wouldn't pass," said Xu. 
Xu said she is taking the NWEA again this winter.
"I definitely feel really nervous and way less prepared than I would normally, and also, in general, I'm not really enthusiastic about it," Xu said.
When schools switched to e-learning last spring, most middle-school students were unable to take the NWEA. CPS administered the test in October and is providing additional testing dates.
Xu said she feels less prepared to take the test now than she did last spring. 
"I feel like it would have been easier if we went to school still because I'm not that good at time management and individually prepping for tests," said Xu. "I just don't feel like I would be able to do as well. I'm less prepared."
An eighth-grader at Kenwood Academic Center, Taylor Hampton, said online learning has not adequately prepared her for the Map test. 
"The online learning that I've been doing currently has not been as sufficient as in-person learning, so I probably won't be at a better advantage," Hampton said. 
Florencia Fabian, an eighth-grader at Alexander Graham Bell School, said she feels confident about the admissions process and in submitting her NWEA score from winter of seventh grade.
"Our school counselor talked with my class about the [admissions] process and how to view your scores for the NWEA and how it affects what school you get into and stuff," said Fabian. 
CPS will not consider attendance in the 2020-21 high school admissions as schools did not track attendance last spring. Hampton said she appreciates this change. 
"That's probably a better option because, since COVID happened and everything, a lot of the attendance rates have gone down because, maybe internet issues. So I think that's a good idea," she said.
Since CPS will administer both the NWEA and the high school admissions exam this winter, they will have to adhere to state social distancing guidelines and other safety protocols. 
"I'm hoping that the groups are small and that they are safely socially-distanced," said Hampton.
Fabian said COVID-19 safety protocols might add confusion to the testing process. 
"We're usually pretty safe about [COVID-19 precautions], I guess. So it's kind of like, concerning," said Fabian. "The way they set up the test and stuff is probably going to be different this year than it was when I was in seventh grade. So it's maybe a little bit confusing."
Despite the CPS accommodations, some high school applicants said the pandemic has still added stress to their application process.
"I have to worry about being sick and taking the test. I have to worry about my scores because, in seventh grade, half of my school year was COVID," said Hampton. "I had to do online school and that was a really big change for me, so I was really worried about my grades, my test, scores, and applying to the schools."
Leave a Comment
About the Contributor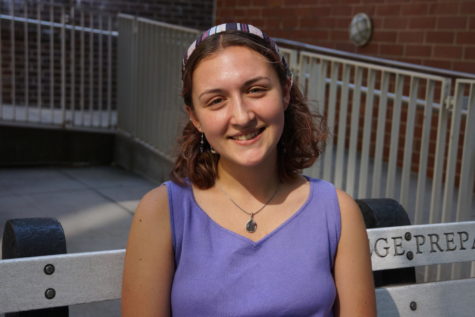 Whitney Shurtliff '22, Associate Editor, Print
Whitney is excited to continue at the Blueprint as Associate Editor of Print during their senior year at Jones. She also participates in National English...