We wish you a virtual Christmas
Teachers changes holidays traditions due to COVID-19
Though COVID-19 pandemic is causing people to change the way they normally celebrate the winter holidays, Jones teachers have found alternative ways to celebrate this festive time of year in a way that is meaningful and joyful to them.
The Center of Disease Control (CDC) recommends staying at home for the holidays and not gathering with people outside of one's household. As of Nov. 21, Chicago has a 14.2 percent positivity rate, according to the Chicago COVID-19 Dashboard. 
Spanish teacher Evelyn Jimenez has lots of traditions she and her family do in preparation for and during the winter holidays. The day before Thanksgiving, a lot of the women in her family gather and make stuffing for the turkey.
"My family is still taking part in this tradition, as each family member will join from their house and cook on a Zoom call,"  said Jimenez. "I would've done a much larger dinner this year, but people can't come because of COVID."
Instead,  Jimenez said she will celebrate with the people in her household. To prepare for Christmas, Jimenez said she is shopping early, anticipating longer delivery times and reduced capacities at stores. 
"I am learning how to use Zoom and making sure the older members of my family also know how to use the app," Jimenez said. 
Her family will also have a Zoom call on Christmas morning to open presents.  
"I'm accepting it because I know it's necessary, and of course I'll do whatever I have to do to protect my family. I have to find other ways to maintain my holiday spirit," said Jimenez.      
She is putting up more holiday decorations around her house and is trying to stay upbeat in all of her classes while still spreading some holiday spirit. 
Science teacher Erin Cathcara said she is not changing much of her usual holiday traditions this year.
 "Coronavirus isn't changing my life that significantly, I just won't be able to see friends," said Cathcara. 
For Halloween, she said she dressed up as an emo cowboy and was able to safely gather with some friends around a bonfire. She usually gathers with friends for Thanksgiving and Christmas; however, she is unable to do so this year. She said she saw clips of some Hallmark movies on TikTok and might watch some over winter break, since she's never seen them before.
"On the Winter Solstice, I try to light some candles and set intentions for the New Year," said Cathcara. "Every day following we have a little more sunlight and I try to be thankful for that, especially considering how cranky I get when it's cold."
This year,  math teacher Natasha Fast will be celebrating the holidays with her immediate family and will Zoom with other friends and relatives. Fast said her favorite holiday is Halloween. 
"My 4-year-old decorated our house with spooky drawings and we carved lots of pumpkins," said Fast. "We did 'inside trick or treating' where he knocked on all the doors in the house and we came out with candy."
For Christmas, Fast said she will try to dress up for Ugly Sweater Day, as she usually competes with Physics teacher Steven Clayton for best ugly sweater.
 "I'm going to see if I can come up with a visible Google meet type of costume this year," said Fast. "It will be hard to see my sequined slippers, though."
To celebrate the holidays, Fast said she usually visits family in Carbondale, IL, or in Mexico. She also puts lights up in her classroom and has students pick out songs for a holiday themed playlist that they listen to while working. 
"I'm glad that most of my extended family members are staying home and keeping their celebrations small. I think it will be the safest way to celebrate and will hopefully keep everyone healthy so we can get together next year," Fast said.
Fast is coming up with creative ideas to celebrate Christmas this year during the pandemic.
 "I like the idea of virtual caroling," said Fast. "We will probably also try to spend some time outdoors if it is snowy. I always like to drive around and look at people's decorations."
Clayton was planning on celebrating Thanksgiving at his parents home in the suburbs, however, he decided to stay home as COVID-19 cases continue to rise. 
"Out of an abundance of caution, I decided to stay home this holiday and celebrate with family through Zoom," Clayton said. "For the first time ever I am cooking a turkey and will be Zooming with family at dinner time."
Clayton said he will be celebrating Christmas remotely but is disappointed that he won't be able to spend the holiday with his family. He said he is bummed, as many of the holiday festivities he normally goes to are cancelled or modified this year.
 "I usually go to Lincoln Park Zoo for the lights and I do the Christkindlmarkt, the parade on State Street and all these fun Christmas-y things, and none of that is happening this year," said Clayton. "I keep reminding myself that it's okay, because this isn't the only year. We'll get to do that next year."
Leave a Comment
About the Writer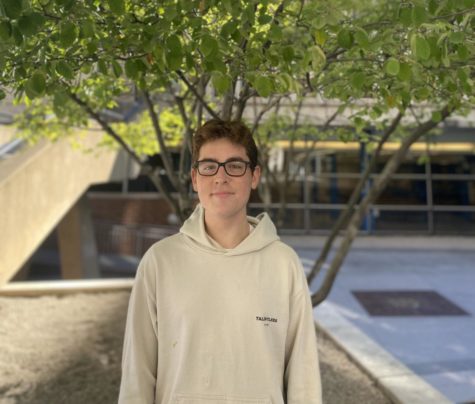 Gabi Josefson '23, Editor-in-Chief
Gabi is a senior who is exuberant to serve as the Blueprint's Co-Editor-in-Chief. It's his 3rd year on the Blueprint and he is thrilled to be part of this...